Filters
Host Donations (high to low)
Newest First
Price (low to high)
Price (high to low)
Rating
Number of Reviews
Sake Spectacular: Museum Tour & Tasting in Fushimi (Kyoto)
Join Hiroshi for a private sake tour in Fushimi! Explore Gekkeikan Okura Sake Museum, learn about history, culture, production, & savor samples. With a diverse background, Hiroshi shares Kyoto's charm, while Fushimi's legacy enhances the experience.
Tailor-Made Tours
Can't find what you're looking for? We can plan a custom-made food experience or itinerary just for you.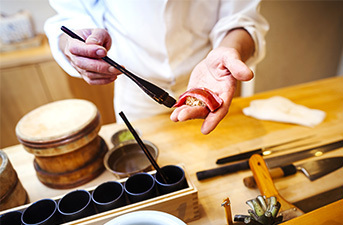 Vegan Tastings in Kyoto
Kyoto's signature flavors are known for being elegant, refined, and delicately delicious! Kyoto cuisine is always beautifully presented and with an awesome combination of interesting flavors and textures. This works in favor of Kyoto's signature flavors, where there are a lot of interesting beverages in Kyoto as well. And thankfully, many of them are vegan-friendly too! A lot of Kyoto's food is based on beautiful local produce, so there are plenty of suitable drinks in Kyoto for vegans visiting Japan. You can join a vegan sake tasting or compare different types of local tea during a Japanese tea tasting. Check out our inclusive vegan options and join one of our vegan tastings in Kyoto to be able to really get to know local products, and discover the best vegan drinks with an expert.