Filters
Host Donations (high to low)
Newest First
Price (low to high)
Price (high to low)
Rating
Number of Reviews
Sake Spectacular: Museum Tour & Tasting in Fushimi (Kyoto)
Join Hiroshi for a private sake tour in Fushimi! Explore Gekkeikan Okura Sake Museum, learn about history, culture, production, & savor samples. With a diverse background, Hiroshi shares Kyoto's charm, while Fushimi's legacy enhances the experience.
Tailor-Made Tours
Can't find what you're looking for? We can plan a custom-made food experience or itinerary just for you.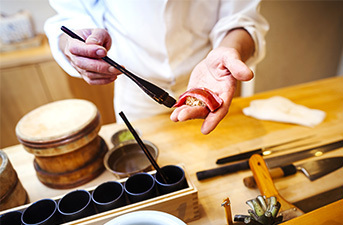 Vegetarian Tastings in Kyoto
Fortunately, the flavors of Kyoto are built upon strong foundations of vegetarian ingredients, so vegetarians don't have to miss out on the signature drinks, soups, and sauces on offer. Some of our vegetarian tastings in Kyoto include a Japanese sake brewery tour of the famous Fushimi district, and a rice wine sampling, or cocktail tasting. Vegetarian tastings in Kyoto offer the chance to really get to know locally-made products that are not only vegetarian-friendly but also absolutely scrumptious! Like locally made matcha tea from Uji or a range of premium Japanese drinks, you can learn about the craftsmanship, vegetarian ingredients, and processes. Vegetarian tastings in Kyoto can teach you about lots of vegetarian drinks and flavors that fuel the creativity of this beautiful city!