Filters
Host Donations (high to low)
Newest First
Price (low to high)
Price (high to low)
Rating
Number of Reviews
Tailor-Made Tours
Can't find what you're looking for? We can plan a custom-made food experience or itinerary just for you.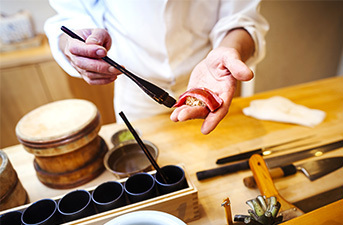 Osaka Dining Experiences
Osaka has an overwhelming number of incredible restaurants, constantly churning out mouthwatering dishes. Look to your left and there's tiny ramen shop, with steaming hot bowls of tonkotsu pork broth. Look to your right, and there's a grill-it-yourself restaurant with thick slabs of okonomiyaki sizzling away. And look upstairs, and there are rows of all-you-can-eat buffets, challenging its diners who are hungry and ready to conquer! So, where to eat, or what to do? Whatever you're hankering for, we've got you covered, with dietary restrictions taken care of. For an unforgettable meal, you can book one of our Osaka dining experiences ranging from high-class dining establishments to simple meals in an authentic local restaurant.
Osaka dining experiences can introduce you to the most delicious food in Osaka, matched with the setting that's just right. No need to worry about where to go for a group meal or a romantic dinner for two, check out our dining experiences in Osaka to enjoy a unique meal of Kansai cuisine!