Filters
Host Donations (high to low)
Newest First
Price (low to high)
Price (high to low)
Rating
Number of Reviews
(ONLINE) Mindful Eating: Zen Experience to Enrich Your Life
Appreciate the present moment, experiencing food on a deeper level during a mindful eating session. Introducing a practice of Japanese Zen Buddhism that can enrich your everyday life, this online experience will bring you peaceful and joyful energy.
(5)
Kaiseki Bento Traditional Cuisine & Tea Ceremony
Have a taste of traditional Japanese cuisine with cha-kaiseki! Enjoy five beautiful dishes representing Japan's nature and history, at a teahouse steeped in Japanese art and culture. Take part in the following tea ceremony for a complete experience.
Tokyo Ninja Food Experience
A fun time for the whole family, you'll dress, train, and eat like a ninja during this immersive experience in Asakusa! Test out your shuriken, blowgun, and sword skills, then refuel with a ninja-themed menu followed by a casual tea ceremony.
Tailor-Made Tours
Can't find what you're looking for? We can plan a custom-made food experience or itinerary just for you.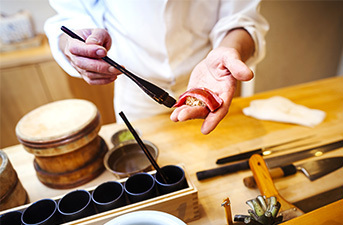 Halal Dining Experiences in Tokyo
With a growing number of inbound tourists from around the world visiting Japan, halal food is slowly becoming more accessible in Tokyo and across the country. It's not impossible to find by any means, but there is still a long way to go before there are effortless halal options readily available. So for now, let us take the stress out of finding where you can eat halal food. Book one of our delicious halal dining experiences in Tokyo where we can set you up with one of our restaurant partners that offer Muslim-friendly halal menu options. How about a halal wagyu dinner or some completely pork-free ramen? That's a "yes please" that everyone can enjoy.
You can never be too cautious, but there is no need to miss out on so much amazing Japanese food when there are halal dining options waiting for you! One of our halal dining experiences in Tokyo can ensure you eat amazing Japanese food that follows halal dietary restrictions, so you can enjoy traditional food culture without a worry. A halal dining experience in Tokyo is definitely your ticket to delicious, stress-free halal food so dig in! Explore our inclusive halal dining options here on byFood.