Filters
Host Donations (high to low)
Newest First
Price (low to high)
Price (high to low)
Rating
Number of Reviews
Flavors of Japan Food Tour with Wagashi
This Tokyo food tour features 8 stops, showcasing the variety of Japan's regional and seasonal foods. From the oldest and most expensive fruit store in Japan to a handmade Japanese sweets shop, you'll witness the diversity of Japanese food culture.
(3)
Taste Seven Traditional Japanese Sake in Shinjuku
Through this experience, your guide will teach you about Japan's relationship with sake throughout its history and culture, serve 7 different sakes, and explain how each sake is prepared, should be enjoyed, and which foods have complimentary tastes.
Tailor-Made Tours
Can't find what you're looking for? We can plan a custom-made food experience or itinerary just for you.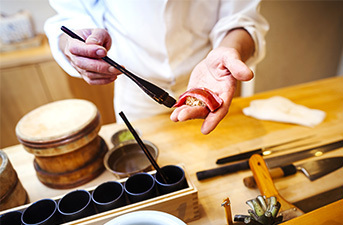 Halal Tastings in Tokyo
More inclusive food options are continuing to spread throughout Tokyo, with delicious halal Japanese food options cropping up across the city. We understand that finding halal Japanese food as a tourist in the city is getting easier, but it's still not that easy. If you don't know where to look to get acquainted with the flavors of Tokyo, we can give you a hand because we've done the searching for you! You can join one of our halal tastings in Tokyo to discover the best in local flavors that are halal and inclusive.
Check out our halal tastings in Tokyo to sit on some of the finest sauces and green tea varieties in the city. As you sip on your samples, a local guide can introduce you to the origins and ingredients of each product. You don't have to miss out just because you abide by Islamic dietary restrictions. Don't worry, we have done the hard work for you so you can taste worry free! You taste samples as a knowledgeable instructor teaches you about the history and make of the high-quality products, clarifying any questions you may have about production processes and halal ingredients. It can be a truly immersive experience to add to your Tokyo trip, and it's great because anyone can join so book one of our halal tastings in Tokyo! Brush up on your knowledge of delicious Japanese tea, miso samples, and more! Book one of our delicious halal tastings in Tokyo for a delicious tasting experience!