Filters
Host Donations (high to low)
Newest First
Price (low to high)
Price (high to low)
Rating
Number of Reviews
Tailor-Made Tours
Can't find what you're looking for? We can plan a custom-made food experience or itinerary just for you.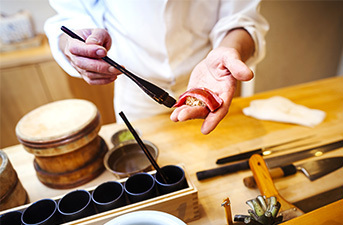 Find The Top Gourmet Experiences in Japan
At byFood, we believe that one of the best ways to experience Japanese culture is to dive in with your chopsticks! Food is a universal human experience, something that people from all walks of life can talk about with joy and fond memories. While some might associate the smell of freshly-baked chocolate chip cookies with Christmas, the Japanese might be reminded of Japanese New Year by the smell of sweet red beans and toasted mochi. Japanese food is inextricably linked to culture and history, and it's the celebration of these traditions that make each culture unique.
On a trip to Japan, you'll likely plan to visit temples and shrines, Japanese parks and gardens, amusement parks and shopping districts. These areas are packed with tourists, and you could probably go back to your country without even speaking with a Japanese person, without feeling in touch with the culture at all. That's why byFood offers hands-on, immersive food experiences in Japan with local guides, such as food tours, cooking classes, tastings, and dining experiences.
During a food tour in Japan, you can learn about the food scene in a particular area by visiting several different Japanese restaurants and establishments, or touring one place in-depth. This might be a tour of a specific neighborhood, shopping street, or market such as a fish market. Food tours also include bar hopping experiences and bike tours in Japan, which get your heart pumping as you burn off the calories from your meals (or your drinks!).
ByFood also offers cooking classes in Japan, which are hands on cooking experiences that vary in intensity. While there are many cooking classes suitable for home cooks and children, there are also intensive courses with lessons that take place over several days and offer a certificate of completion. Cooking classes can take place in cooking studios, restaurants, or homes.
Dining experiences are sit-down food and drink experiences that include experiential dining experiences like intimate dinners with a personal chef, creative themed restaurants, casual dining experiences at little eateries and izakayas, and home dining with locals.
Our food experiences also include tastings in Japan, which allow you to try different varieties of a beverage, such as tea and sake, with a local guide. You can enjoy everything from sake tastings to beer tastings to whisky tastings during a byFood tasting experiences, but it isn't limited to just alcoholic drinks. There are also dashi and tea tastings available. The category also includes tours of breweries and distilleries that culminate in a tasting.
Whether you're visiting Japan for the first time or the tenth, there are always new things to be discovered! Browse food experiences in Japan on byFood and find your perfect food tour, cooking class, dining experience, or tasting.