Filters
Host Donations (high to low)
Newest First
Price (low to high)
Price (high to low)
Rating
Number of Reviews
Kyoto: Sake Tasting at Local Breweries near Fushimi Inari
Taste the heart of Kyoto's sake culture and explore Fushimi's sake legacy. Guided by sake-loving expert, visit historic breweries, shops, and a food hall to savor diverse flavors. Uncover the secrets of sake making, and enjoy sweet sake.
(2)
Tailor-Made Tours
Can't find what you're looking for? We can plan a custom-made food experience or itinerary just for you.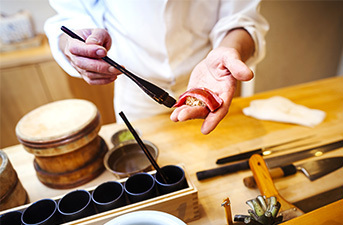 Sake Tastings in Kyoto
Kyoto is known for delicate freshwater, which makes for delicious and aromatic Japanese sake! Also known as "nihonshu," Japanese sake is a type of rice wine; its main ingredients are rice, water, and koji mold. Kyoto sake is especially famous, as Kyoto is home to Fushimi Sake District, a charming Kyoto neighborhood with two rivers running through it. Several sake breweries have set up shop to take advantage of the delicious soft water is abundant here, and have been operating for over 400 years. Sake lovers who come to Kyoto can't leave without taking a stroll among the nearly 40 breweries in the district. Learn about the components of delicious sake during a sake brewery tour, and learn to identify different types of Japanese sake for yourself during a sake tasting. With a variety of both small-batch and large-scale sake breweries in Kyoto, you can get a well-rounded perspective about the craft of sake making, and get a taste of the history of Japanese sake. Try Japanese nihonshu for yourself, and join a sake tasting in Kyoto!