Filters
Host Donations (high to low)
Newest First
Price (low to high)
Price (high to low)
Rating
Number of Reviews
Tokyo Tea Tasting: 12 Types of Matcha, Sencha, & Gyokuro
Experience a taste of Japan in Tokyo with a certified Tea Advisor who will introduce the origins & preparation of 12 types of tea. Learn about sencha, matcha, & gyokuro tea & the diverse regions they come from in an immersive tasting session.
Flavors of Japan Food Tour with Wagashi
This Tokyo food tour features 8 stops, showcasing the variety of Japan's regional and seasonal foods. From the oldest and most expensive fruit store in Japan to a handmade Japanese sweets shop, you'll witness the diversity of Japanese food culture.
(3)
Tasting and Comparing Seven High Quality Japanese Teas
Escape the hustle and bustle of Tokyo life with this tea-tasting experience! Taste seven different types of Japanese tea, including gyokuro, and enjoy complimentary Japanese sweet pairings. You will definitely feel relaxed after this experience!
Tailor-Made Tours
Can't find what you're looking for? We can plan a custom-made food experience or itinerary just for you.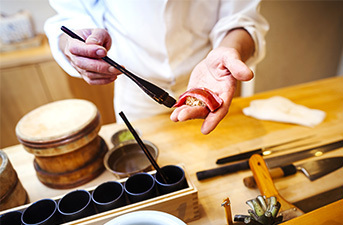 Tea Tastings in Tokyo
As the capital and largest city in Japan, Tokyo is a hub of products from all over Japan, Japanese tea included. Tea tastings in Tokyo include the finest tea products available, a wide variety that will keep your tastebuds happy. From vibrantly green matcha to herbal sencha tea to strong kocha and nuttily aromatic genmaicha, there is something for everyone. Explore the delicious tea offerings of Japan during these tea tastings in Tokyo. Calm your senses with a warm, delicious cup of tea, invigorating your senses with a gentle caffeine lift. An essential part of Japanese culture, a simple cup of tea is part of the lifestyles of everyday Japanese folks and for special occasions, the tea ceremony has been rooted in Japanese tradition for around 1000 years. On your trip to Japan, be sure to join a tea tasting in Tokyo for insights into Japanese history, culture, and lifestyle.