Filters
Host Donations (high to low)
Newest First
Price (low to high)
Price (high to low)
Rating
Number of Reviews
Tailor-Made Tours
Can't find what you're looking for? We can plan a custom-made food experience or itinerary just for you.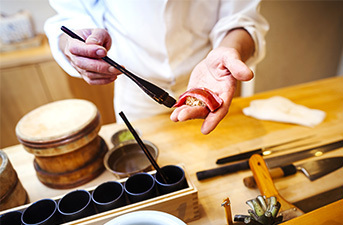 If you wanted to try some premium Japanese alcohol, you might head first to the whisky bars in downtown Tokyo, or the historic Japanese sake emporiums of Kyoto. European-style wine rarely features on lists of the most popular Japanese drinks. But if you love a glass or two of vino, you'd better not overlook the fantastic Japanese wine culture which has blossomed here in recent decades!
The hybrid kōshū grape which thrives in the valleys of Yamanashi Prefecture is one of the best, but you'll find vineyards throughout the country all producing their own unique styles of this classic drink. With a byFood wine tasting experience in Japan, you'll be able to sample some of the best varieties with the guidance of an expert local guide.
You'll learn about the burgeoning Japanese wine industry, the top vineyards in the country, and which labels to look out for in the future during these wine tastings in Japan. It's surely a must-do for any serious wine lover visiting the Land of the Rising Sun.