Filters
Host Donations (high to low)
Newest First
Price (low to high)
Price (high to low)
Rating
Number of Reviews
Tailor-Made Tours
Can't find what you're looking for? We can plan a custom-made food experience or itinerary just for you.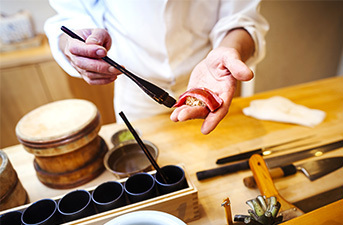 Sake Tastings in Hiroshima
Visiting Hiroshima? If you're a lover of Japanese sake, you're in the right place. Hiroshima is famous for being one of Japan's top sake producers. Saijo in Hiroshima is one of the three major sake-producing regions in Japan (the others being located in Fushimi in Kyoto and Nada in Kobe). Every October, Saijo hosts the annual Sake Festival, which brings together sake connoisseurs from all across the world. With eight sake breweries, Saijo capitalizes on its local "shikomi mizu," water that is the perfect hardness for sake brewing. Discover the pride of HIroshima during a sake tasting in Hiroshima, where you can try a variety of styles of Japanese sake from aged sake to unfiltered and raw sake. And if you think you don't like sake, these Hiroshima sake tastings could prove you wrong! There's an immense variety of sake, not just limited to the dry sake you may have tried before. Hiroshima is the perfect place to challenge your palate to recognize new notes and aromas that you may not have tasted before, and experience Japanese sake in a whole new way. With insights from sake producers and experts, you can educate yourself and become a better taster, and maybe even meet your new favorite brand of Japanese sake!