Filters
Host Donations (high to low)
Newest First
Price (low to high)
Price (high to low)
Rating
Number of Reviews
Tailor-Made Tours
Can't find what you're looking for? We can plan a custom-made food experience or itinerary just for you.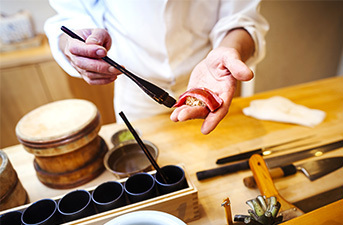 Tea Tastings in Kyoto
Kyoto is famous as the birthplace of the traditional Japanese tea ceremony and tea culture. Particularly, the Uji area of Kyoto is famous for premium matcha green tea and cafes in Kyoto offer green tea flavored desserts and foods. Japanese tea isn't just limited to green tea, however. There's a wide range of Japanese tea like mugicha (barley tea which is often enjoyed chilled in the summer) and kocha (black tea). Join a tea tasting in Kyoto and try a variety of these Japanese teas for yourself. With guidance from a Japanese tea expert, you will learn about the special qualities of each tea, from aroma to health benefits. Kyoto tea tastings will inform your palate as well as your mind. While you learn about the history of tea culture in Japan, you may also find your new favorite type of tea. These tea tastings in Kyoto will take you on a journey. Taste the sunshine, soft Kyoto water, and Zen culture in every sip.