Filters
Host Donations (high to low)
Newest First
Price (low to high)
Price (high to low)
Rating
Number of Reviews
Tailor-Made Tours
Can't find what you're looking for? We can plan a custom-made food experience or itinerary just for you.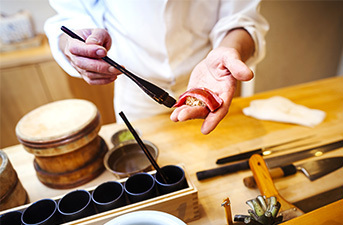 Halal Tastings in Osaka
Osaka is the city in Japan where punchy flavors were born! If you only eat halal food and are visiting this exciting city, there's no need to worry about tasting delicious samples in Osaka because we have halal tastings in Osaka for you to enjoy. Inclusive and delicious, you can take a load off from exploring the city and sit down to sample some of Osaka's finest flavors and beverages that are halal-friendly. If you follow Islamic dietary restrictions, don't worry, we have a range of tea tasting, miso sampling sessions, and more! Why not jump in and taste something new? Don't miss out on the flavors of Osaka because of your dietary restrictions. Even for those who only eat halal food, never fear, you can jump in and taste the awesome Kansai flavors of Japanese food of with one of our halal tastings in Osaka.