Filters
Host Donations (high to low)
Newest First
Price (low to high)
Price (high to low)
Rating
Number of Reviews
Tailor-Made Tours
Can't find what you're looking for? We can plan a custom-made food experience or itinerary just for you.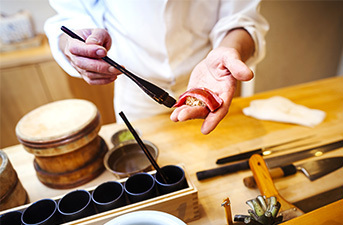 Vegan Food Tours in Osaka
Osaka shines in the foodie spotlight of Japan, and even when it comes to vegan Japanese food, Osaka serves up the finest! If you're vegan and wondering what kind of Kansai cuisine you can get your hands on, then you have come to the right place. Joining one of our vegan food tours in Osaka is the perfect way to discover the best sights, sounds, and vegan tastes of this awesome party city! Vegan food tours include classic Japanese dishes such as vegetarian gyoza, Japanese curry, ramen, oden, and more! As you explore the city with a vegan itinerary, we promise that the flavor of vegan Japanese food in Osaka will not be compromised!
Discover the best vegan snacks in Kuromon Market, or eat delicious vegan dishes during a bar-hopping tour through the back streets izakayas of the city. Vegan food tours in Osaka take you to see the big attractions and the city's best kept secrets! From Dotombori and Kitchen Street to the nostalgic Shinsekai, you can learn a thing or two about delicious vegan food options in Osaka as you explore. Whether it be a specialty vegan food tour in Osaka or one of our standard food tours featuring a vegan menu, we can accommodate for your plant-based foodie preferences!