Filters
Host Donations (high to low)
Newest First
Price (low to high)
Price (high to low)
Rating
Number of Reviews
Tailor-Made Tours
Can't find what you're looking for? We can plan a custom-made food experience or itinerary just for you.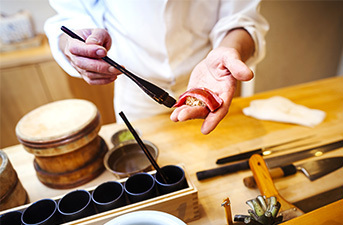 Gluten-Free Food Tours in Japan
On your trip to Japan, you'll immerse yourself in the local traditions, history, architecture, and culture of Japan. And after a long day of exploring, you'll likely want to refuel with Japanese cuisine. Those who have celiac disease, gluten intolerance, or other reasons for avoiding wheat, might find it a little challenging to find gluten-free Japanese food.
Surprisingly, soy sauce is not naturally gluten-free. It is an "invisible" ingredient that is present in many Japanese dishes. And soba noodles are made of buckwheat flour, which is gluten-free, but often they are made with a blend of wheat flour as well. Tempura is also traditionally made with wheat flour. But your gluten-free diet certainly shouldn't stop you from exploring Japanese food culture. During these gluten-free food tours in Japan, you can try a gluten-free sushi tour, join a gluten-free tempura tour, and more!