Filters
Host Donations (high to low)
Newest First
Price (low to high)
Price (high to low)
Rating
Number of Reviews
Tailor-Made Tours
Can't find what you're looking for? We can plan a custom-made food experience or itinerary just for you.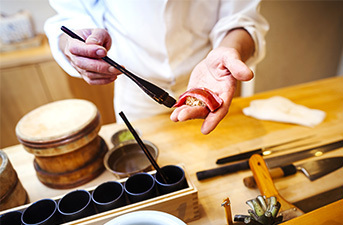 Halal Food Tours in Japan
With the foreign population in Japan increasing every year, more restaurants in Japan are catering to those with dietary restrictions, such as halal, kosher, vegan, and gluten-free. Halal food in Tokyo and other major cities in Japan is becoming easier to find, though it can still be challenging to ensure that your meals are all up to halal standards. If you'd like to explore Japanese culture through food, joining these halal food tours in Japan is a perfect way to do so! You certainly do not have to miss out on popular Japanese foods if you have dietary restrictions.
There are halal food tours in Tokyo and halal food tours in Osaka, as well as Hiroshima, Kyoto, and other areas of Japan! Taste halal sushi at local markets, enjoy Japanese street food, visit a green tea farm, and even go oyster sailing! Food tours in Japan are the perfect places to meet locals and make new friends. And it's all up to halal standards, so feel free to try everything!