Filters
Host Donations (high to low)
Newest First
Price (low to high)
Price (high to low)
Rating
Number of Reviews
Tailor-Made Tours
Can't find what you're looking for? We can plan a custom-made food experience or itinerary just for you.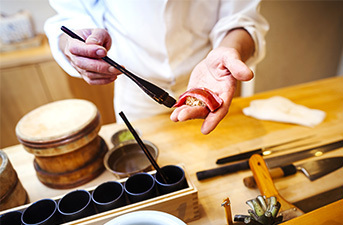 Vegetarian Tastings in Osaka
Osaka is known as Japan's rowdiest city, and thus is the best place to indulge in a tasting of Japanese tea, Japanese sake, whisky, beer, and more. Learn from the true beverage connoisseurs of Osaka, becoming an expert in your favorite drinks as you swill and swish your glass with the best of them. But byFood not only offers tastings of your favorite alcoholic beverages, but there are also family-friendly and vegetarian tastings in Osaka. You can enjoy tea tastings to try a variety of different Japanese teas, such as matcha, sencha, and genmaicha. Or, join a dashi tasting to try a variety of Japanese soup stocks, such as a vegetarian dashi based on kombu (seaweed) and shiitake mushrooms. Browse vegetarian tastings in Osaka to learn about delicious Japanese flavors!