Filters
Host Donations (high to low)
Newest First
Price (low to high)
Price (high to low)
Rating
Number of Reviews
Tokyo Bars and Mixology with Whisky, Sake, and Food Pairings
Experience the best of Tokyo nightlife with an expert-guided tour of the bars of Shinbashi and Ginza. Learn about whisky, sake, and food pairings, as well as Japanese drinking etiquette and customs.
(2)
Tailor-Made Tours
Can't find what you're looking for? We can plan a custom-made food experience or itinerary just for you.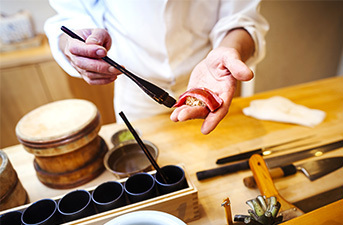 Beer Tastings in Tokyo
Tokyo beer tastings will introduce you to some of the most delicious and unique Japanese beers, like local Japanese craft beers. Enjoy the creative flavors of regional Japanese brews from small-batch artisan breweries, as well as larger-scale beer productions. As you sample a range of Japanese beers with a beer expert in Tokyo, you will gain insight into the Japanese craft beer market. Highly drinkable, even those who may not consider themselves beer-lovers will find a drink to rave about during these beer tastings in Tokyo. As craft beer pubs and microbreweries become more mainstream in Japan, the competition between craft breweries heats up, leading to new and exciting types of beer. From a dark brew with a surprising coffee aftertaste to a light and refreshing yuzu-scented beer, your new favorite beverage is waiting at a beer tasting in Tokyo.