Filters
Host Donations (high to low)
Newest First
Price (low to high)
Price (high to low)
Rating
Number of Reviews
(Online) Mysteries of Japanese Whisky Private Experience
Curious about the world of Japanese whisky? During this BYOB online experience, you'll learn about how whisky is made (especially the particulars of Japanese whisky production), and find out how to make a classic Japanese highball.
(1)
Tailor-Made Tours
Can't find what you're looking for? We can plan a custom-made food experience or itinerary just for you.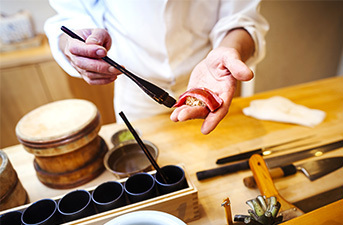 Osaka Tastings
Let's be honest, the people of Osaka are food fanatics but they also love a good drink to match. The drinking and party culture of Osaka is a key part of the heart and soul of the city! But what makes a good sake? Or what comes down to a quality Japanese whisky? You can find out for yourself by joining one of our awesome Osaka tastings. Tasting experiences in Osaka are a unique opportunity to learn in-depth about different drinks from the Kansai region and beyond, with the insider knowledge of a local guide as you taste away and get down to business.
Not much of a drinker? Get hooked on flavor as you can taste a range of Osaka's signature soups and sauces with our Osaka tasting experiences, too, a great way to discover your favorites! Osaka can be an immense flavor overload, but still the thickened sauce concoction of Worcestershire-meets-soy that gets slathered on just about everything simply keeps us coming back! Check out our tasting experiences in Osaka to learn about local drinks and more.