Filters
Host Donations (high to low)
Newest First
Price (low to high)
Price (high to low)
Rating
Number of Reviews
Tailor-Made Tours
Can't find what you're looking for? We can plan a custom-made food experience or itinerary just for you.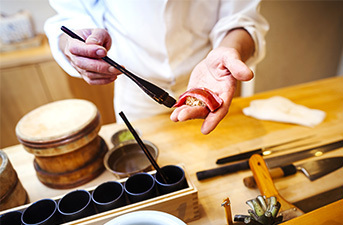 Tokyo Tastings
Tokyo is a foodie playground of delicious flavors and tantalizing drinks! Are you a bit of a whisky buff? Or maybe are you more of a miso connoisseur? Whatever flavor floats your boat, you can taste the best of Japanese sake samples, whisky, wine, and more with one of our Tokyo tastings. These are exciting tasting experiences in Tokyo such as Tokyo sake tastings where you can become the next expert as you learn more in-depth about a range of different Japanese drinks. You can sample beverages like Japanese sake or different types of local tea, or even compare soup broths and sauces to become a pro in the condiment-guessing circuit (a useful skill when you dine out in the capital)!
Tastings in Tokyo can also offer insights about where each product is made, with a local guide to explain all about the secret ingredients and signature styles of different makers. Taste the best of Tokyo and join one of our Tokyo tastings for an immersive, full-flavor experience. Besides, when it comes to tasting, more is more!