Filters
Host Donations (high to low)
Newest First
Price (low to high)
Price (high to low)
Rating
Number of Reviews
Tailor-Made Tours
Can't find what you're looking for? We can plan a custom-made food experience or itinerary just for you.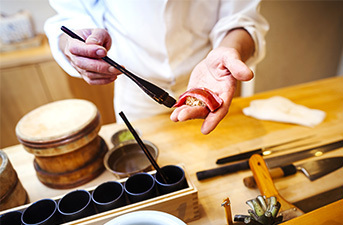 Vegetarian Tastings in Tokyo
With the impact of globalization, the popularity of vegetarianism is becoming more widespread around the world. Although the pillars of Japanese cuisine often rely on components of fish and seafood, delicious vegetarian-friendly Japanese food and flavors are becoming much easier to come across in Japan. Vegetarian Japanese food that is made from a variety of delicious Japanese ingredients make eating plant-based in Japan much more accessible. This goes for the big city of Tokyo as well, with delicious vegetarian options for both Japanese and Western-style food becoming readily available. Due to a diverse range of districts in Tokyo, there are plenty of delicious opportunities to enjoy vegetarian tastings in Tokyo too. If you want to learn about Japanese rice wine, join a sake tasting in Tokyo; if you're a whisky aficionado, check out our Tokyo whisky tastings; and if alcohol's not your cup of tea, there are also tea tastings in Tokyo and a range of other drinks that are suitable for vegetarians! Join one of our vegetarian tastings in Tokyo. Here, you can learn about the history and culture of these historically important products while happily sipping away!