Filters
Host Donations (high to low)
Newest First
Price (low to high)
Price (high to low)
Rating
Number of Reviews
Tokyo Bars and Mixology with Whisky, Sake, and Food Pairings
Experience the best of Tokyo nightlife with an expert-guided tour of the bars of Shinbashi and Ginza. Learn about whisky, sake, and food pairings, as well as Japanese drinking etiquette and customs.
(2)
Tailor-Made Tours
Can't find what you're looking for? We can plan a custom-made food experience or itinerary just for you.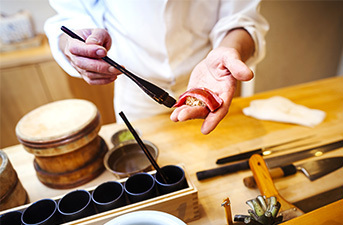 Whisky Tastings in Tokyo
Explore Japanese distilleries and whisky bars with a local guide. Join whisky tastings in Tokyo to try a variety of high-grade Japanese whiskies. You'll soon discover the secrets of this golden amber alcohol, with insights into the production and the various types of whisky. Japanese whisky has been lauded worldwide as some of the highest quality, and several Japanese brands have won awards for their delicious blends and vintages. These whisky tastings in Tokyo will introduce you to some of the top brands, both large producers and small limited batches. Swilling your glass, you'll inhale the aromas of oak, toasted nuts, and cinnamon, and challenge your tastebuds with totally new flavors. When you join a Tokyo whisky tasting accompanied by a Japanese whisky expert, you'll learn more about your favorite beverage and discover how Japanese whisky producers are taking over the world with their luxurious whiskies. Book a Tokyo whisky tasting today and take your palate on a journey!