Filters
Host Donations (high to low)
Newest First
Price (low to high)
Price (high to low)
Rating
Number of Reviews
Food Tour Adventure in Hiroshima at Night
This Hiroshima tour features 10+ different foods besides the standard okonomiyaki (Japanese savory pancake) that's famous in the area. Visit Hon Dori, one of Hiroshima's shopping streets, then check out the winding alleys and bars with a local guide.
(12)
Tailor-Made Tours
Can't find what you're looking for? We can plan a custom-made food experience or itinerary just for you.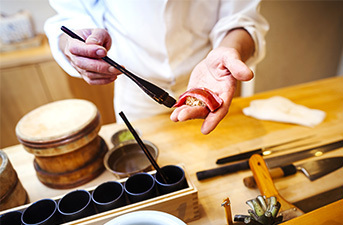 Halal Food Tours in Hiroshima
If you prefer to eat halal and are heading to Hiroshima, don't worry, byFood has your back! While halal Japanese food options in Hiroshima are increasing, it's still a bit tricky to track down halal food here. Halal food tours in Hiroshima are the all-inclusive solution to exploring the best food and attractions in Hiroshima, worry-free. You can hit up the local downtown area for some halal sushi or visit secret hidden night spots to enjoy yakitori from halal meats! You can enjoy awesome halal food in Hiroshima as you explore the sights of the city, visiting the bustling downtown area or the sacred shrine on Miyajima Island!
Our halal food tours in Hiroshima have plenty of delicious options so you don't have to miss out on the awesome Japanese food in Hiroshima. Plus, you can jump on some of our other food tours too, as many offer alternatives catering to people with halal dietary restrictions. Halal Hiroshima-yaki, here we come! Check out our halal food tours in Hiroshima here on byFood.