Filters
Host Donations (high to low)
Newest First
Price (low to high)
Price (high to low)
Rating
Number of Reviews
Tailor-Made Tours
Can't find what you're looking for? We can plan a custom-made food experience or itinerary just for you.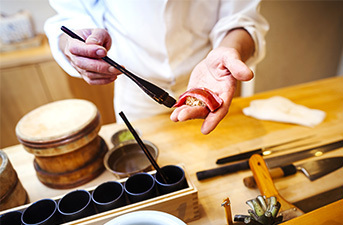 Vegetarian Food Tours in Osaka
When it comes to food in Osaka, more is more! But, if you are vegetarian, no meat but more vegetables is right up your alley! As vegetarianism is becoming increasingly popular, of course, a city like Osaka has plenty of options to cater to anyone who doesn't eat meat. If you want to discover the best parts of the city but with a vegetarian itinerary, look no further! You can discover the nostalgic streets of Shinsekai as you eat vegetarian kushikatsu skewers and other Japanese street foods, or explore the bustling shops and restaurants of central Namba. Stop off for some vegetarian treats at Kuromon Market or enjoy vegetarian street food in Dotombori with insight from a local guide, and book one of our delicious vegetarian food tours in Osaka!
You can experience the best of the city without having to worry about what you're eating. Our exciting vegetarian food tours in Osaka offer vegetarian alternatives so you can explore freely and still enjoy the amazing Japanese food from the Kansai region. Even without meat, food in Osaka is always exceptional! So, try it here and check out which vegetarian food tours are for you.