Filters
Host Donations (high to low)
Newest First
Price (low to high)
Price (high to low)
Rating
Number of Reviews
Tailor-Made Tours
Can't find what you're looking for? We can plan a custom-made food experience or itinerary just for you.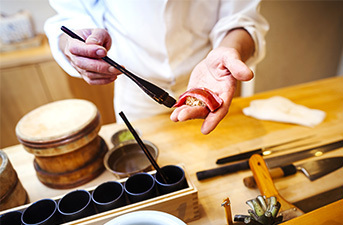 Vegan Food Tours in Hiroshima
Despite being a young city, Hiroshima is home to hundreds of exciting restaurants and bars, making it a great place to get a foodie fix. Although, it can be difficult to discover restaurants with vegan options if you're out there searching on your own. More than just your typical fare, Hiroshima has plenty to offer when it comes to Japanese food, and that includes vegan options as well. So, let us show you around the city with some awesome vegan food tours in Hiroshima!
We can take you through the cool back streets of Downtown Hiroshima, or lead you through the beautiful walking streets of Miyajima Island, all with vegan food options to eat as you go! From the best of vegan street food to local restaurants serving up awesome vegan feasts, a food tour with a vegan itinerary can show you the highlights of Hiroshima. Many of our regular tours can also offer an alternative vegan menu, so head out to discover Hiroshima and delicious local vegan food with one of our vegan food tours!