Filters
Host Donations (high to low)
Newest First
Price (low to high)
Price (high to low)
Rating
Number of Reviews
Tailor-Made Tours
Can't find what you're looking for? We can plan a custom-made food experience or itinerary just for you.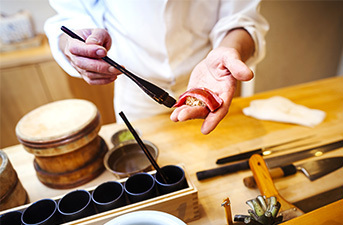 Vegetarian Food Tours in Hiroshima
The friendly city of Hiroshima has so much to offer when it comes to attractions and food, and includes vegetarian options. Vegetarians who are visiting Hiroshima, look no further! That's right, you don't need to stress about what you can eat on your visit to the south of Honshu, because our vegetarian food tours in Hiroshima have got you covered. Hiroshima has lots of things to see and do, from the exciting bars and restaurants in the busy downtown district, to meeting deer and eating street food on sacred Miyajima island. You can do all this and more by joining one of our vegetarian food tours in Hiroshima!
With the help of a local guide, you can try delicious vegetarian street food or even some meat-free Hiroshimayaki, Hiroshima-style okonomiyaki. Exploring and eating as you go, your guide can introduce you to delicious vegetarian dishes and useful tips about Japanese culture. Scope out your new favorite meat-free foods during a vegetarian food tour in Hiroshima, all while learning about Japanese food and culture!