Filters
Host Donations (high to low)
Newest First
Price (low to high)
Price (high to low)
Rating
Number of Reviews
Tailor-Made Tours
Can't find what you're looking for? We can plan a custom-made food experience or itinerary just for you.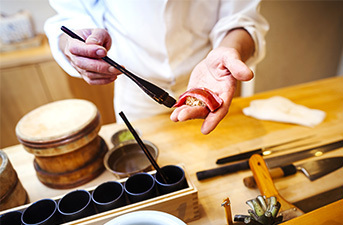 Tokyo Dining Experiences
Packed with restaurants specializing in every type of food possibly imaginable, Tokyo can be a little overwhelming when it comes down to deciding where to eat. Or, perhaps you're looking for somewhere exciting to splurge one evening for a special event on your trip, but don't know what to choose? Book one of our Tokyo dining experiences to lock down some of the best food in Tokyo and enjoy a truly unique meal!
Our restaurant partners offer intimate dining experiences in Tokyo where you can be served by private chefs, or enjoy a humble home-cooked meal with locals. You can experience a multi-course kaiseki dining experience where it is up to the chef to serve you the best seasonal dishes! Or if you love sushi, you can choose from sushi dining experiences and even select an omakase sushi experience, where the chef brings out his best techniques to prepare you an off-menu course of his specialty dishes! From other family-friendly affairs to themed dining to upscale experiences, we have luxury Tokyo dining experiences as well as more down-to-earth dinners available to please your appetite.