Filters
Host Donations (high to low)
Newest First
Price (low to high)
Price (high to low)
Rating
Number of Reviews
Tailor-Made Tours
Can't find what you're looking for? We can plan a custom-made food experience or itinerary just for you.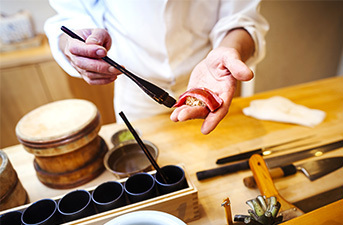 Vegan Dining Experiences in Tokyo
As the city is divided into different districts, Tokyo's incredible food scene is diverse as it is plentiful! You can find restaurants specializing in every type of food that you can ever imagine, including both western-style options and the best in Japanese food. But if you are vegan in Japan, you can enjoy plant-based Tokyo delights too! Vegan dining experiences in Tokyo can take the stress away from trying to find somewhere to eat. Either at vegan-friendly restaurants or specialty restaurants with vegan options, you can enjoy your plant-based meal with peace of mind. Thankfully, a lot of Japanese cuisine is derived from plant-based ingredients like tofu, so you don't have to miss out on the best food on offer! Just join one of our vegan dining experiences in Tokyo for an unforgettable meal that's free from animal products.