Filters
Host Donations (high to low)
Newest First
Price (low to high)
Price (high to low)
Rating
Number of Reviews
Tailor-Made Tours
Can't find what you're looking for? We can plan a custom-made food experience or itinerary just for you.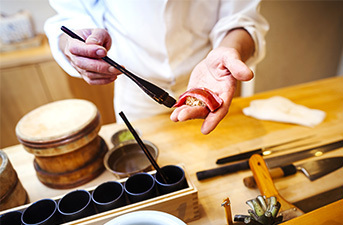 Kosher Food Tours in Japan
Joining a food tour in Japan is one of the best ways to explore a new area, discover regional food culture, meet locals, and make new friends. If you're kosher in Japan, you might be concerned about finding food that is up to kosher standards. But thankfully, with a variety of kosher food tours in Tokyo and kosher food tours in Kyoto, and other areas across Japan, you can enjoy traditional Japanese foods while learning about Japanese culture and history.
Whatever your interests are, there is a food tour for you! These kosher food tours in Japan include street food tours, fish market tours, tea ceremony experiences, and visits to historic districts of Japan. You can get a taste of the daily life of the Japanese during these immersive experiences. And, with a local guide to explain the intricacies of Japanese culture, etiquette, and history, you'll gain insights into life in Japan. Plus, you'll get to enjoy delicious kosher food in Japan and make wonderful memories while exploring Japan's culinary scene!