Filters
Host Donations (high to low)
Newest First
Price (low to high)
Price (high to low)
Rating
Number of Reviews
Tailor-Made Tours
Can't find what you're looking for? We can plan a custom-made food experience or itinerary just for you.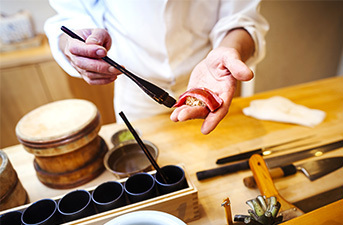 Kyoto Tastings
Did you know the Fushimi area of Kyoto is one of the top 3 sake producers in Japan? This is just one of the fun facts you can learn by joining one of our delicious Kyoto tastings on offer! You can get to know all about locally-brewed Fushimi sake during a Kyoto sake tasting, or perhaps sample some high-quality whisky during a local Japanese whisky tasting. The signature flavors of Kyoto are bottled in the tradition and craftsmanship of its local products, which you can enjoy to the fullest with our Kyoto tasting sessions.
You can really get acquainted with famous products from Kyoto, where, for example, local sake experts join you during our tastings in Kyoto to explain the processes of sake brewing and key ingredients. For those who aren't big drinkers, this goes for tea tastings too, where you can learn about the production process, from planting to harvest. Get ready to sample away while you learn about Kyoto culture, and check out our Kyoto tasting experiences right here on byFood.