Filters
Host Donations (high to low)
Newest First
Price (low to high)
Price (high to low)
Rating
Number of Reviews
Tailor-Made Tours
Can't find what you're looking for? We can plan a custom-made food experience or itinerary just for you.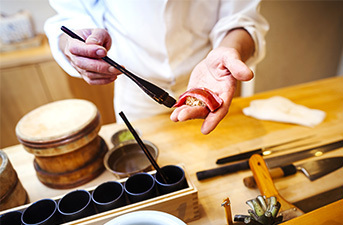 Hiroshima Food Tours
Hiroshima is often forgotten in the culinary spotlight, but alongside the city's rapid and miraculous regeneration, Hiroshima has developed its own unique food scene. Often visitors will just pass through to pay their respects at the Peace Dome and Peace Memorial Park, but if you've got some time to spare, you can uncover some local culinary secrets with one of our tasty Hiroshima food tours. From tours of discovering the best of Miyajima to izakaya hopping through the best back street bars in the lively downtown area, one of our Hiroshima food tours will certainly help you get acquainted with the delicious offerings of southern Honshu.
Especially if you're not so familiar with Hiroshima's local food scene, a food tour in Hiroshima can introduce you to local delicacies like fresh local oysters, high-quality regional lemons, Hiroshima-style okonomiyaki, and more! Plus, with plenty of room to accommodate for dietary requirements, you can experience the best food even when it comes to vegan, vegetarian, halal, and more. Explore the local downtown area with the Ultimate Hiroshima Food Tour and discover the best of local bars and authentic izakayas, or experience the production process of Japanese sake in the Saijo sake brewery district during the Hiroshima Sake Town Tour. Our Hiroshima food tours explore the best local districts, restaurants, and flavors in the city!