Tailor-Made Tours
Can't find what you're looking for? We can plan a custom-made food experience or itinerary just for you.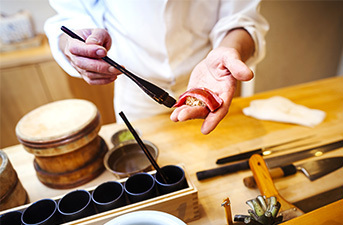 Frequently Asked Questions
How to reserve vegan restaurants in Kyoto?
Vegan restaurants in Kyoto can be reserved by phoning the restaurant directly. This can sometimes cause difficulties when language barriers arise, particularly if you need to confirm the availability of vegan meal options. If you need a hand, you can always reserve seats using an online platform system. There are several options that assist foreigners in reserving at restaurants. You can reserve a vegan restaurant in Kyoto using byFood. This platform is very simple with the option to select different areas of Kyoto and apply filters for different dietary requirements, like vegan restaurants. Enter your reservation details into the page of the vegan restaurant that you would like to dine at and byFood will send you a confirmation email if the reservation is approved. If it is not approved, you will also receive a reservation declined email.
Is a reservation required for vegan restaurants in Kyoto?
Generally speaking, reservations are not required for vegan restaurants in Kyoto but this depends on the restaurant. Some vegan restaurants, although more on the casual side, are very popular, while some fine dining vegan restaurants in Kyoto definitely need a reservation to secure a seat.
What is the average cost of a meal at vegan restaurants in Kyoto?
Vegan restaurants in Kyoto average somewhere between 1500 yen and 2500 yen for a meal. Expect to pay for a dinner meal from 3000 yen, or from 4000 yen for a more high-class dining experience.
Vegan Restaurants in Kyoto
"Kyo-ryori" is the local cuisine of Kyoto Prefecture, known for using mainly "Kyo-yasai," which are locally-grown vegetables and produce from Kyoto, Japan. This means that with a heavy focus on the harvest of regional ingredients, vegan restaurants in Kyoto are increasingly easy to come by among the range of restaurants in Kyoto. However, it can be challenging for vegan travelers in Kyoto to navigate menus and avoid meat and animal products.
The traditional roots of Japanese food are founded on quality ingredients with subtle flavors and textures. Vegans do not have to miss out on Japanese cuisine in Kyoto, as a range of specialty restaurants offer plenty of exquisite plant-based Japanese cuisine options. In fact, the city is just spoilt by many secret (as well as not-so secret) vegan and vegetarian restaurants!
Hidden down the tiny alleyways of Kyoto's gridded streets, or up the stairs of a backstreet building, you never really know what kind of restaurant you will find, some with vegan dining experiences. But rest assured, there are vegan restaurants in Kyoto delivering quality plant-based dishes, packed with umami flavor, all without the use of animal products.
You can enjoy fully
vegan kaiseki cuisine in Kyoto
(luxurious, traditional-style banquet dinners), or discover the
vegetarian Buddhist cuisine
(called "shojin ryori"). Or, why not try booking a
tofu restaurant in Kyoto
to taste vegan Japanese food served up in several different ways? Whether it be at a vegetarian cafe with vegan options or at a traditional Japanese restaurant, reserve an unforgettable plant-based meal at a vegan restaurant in Kyoto.