Tailor-Made Tours
Can't find what you're looking for? We can plan a custom-made food experience or itinerary just for you.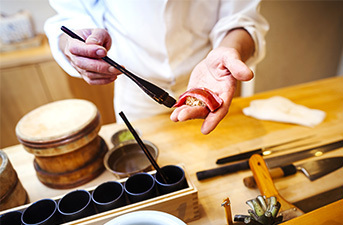 Frequently Asked Questions
How to reserve sushi restaurants in Japan?
You can make a reservation at a sushi restaurant in Japan by calling the restaurant ahead of time. In some cases, there may be a language barrier that makes reserving a table difficult, or the restaurant only accepts reservations on a certain day. In rare cases, the restaurant is so exclusive that an introduction is required from one of their patrons. If you want a hassle-free way to reserve a sushi restaurant in Japan, one of the best options is to make a reservation using an online service. There are a few online options that help foreign travelers to make a reservation, such as platforms like byFood, which offers unparalleled support in making reservations in Japan. On byFood, you can use filters to narrow down restaurants based on location, price range, dietary restrictions, and more. You can easily make a reservation by entering your details on the restaurant page. ByFood will contact the restaurant on your behalf and send you an email telling you if your reservation has been confirmed or not.
Is a reservation required for sushi restaurants in Japan?
This depends on the type of sushi restaurant. Some casual sushi restaurants or conveyor belt sushi restaurants do not require a reservation, or in some cases do not allow it. Other sushi restaurants in Japan like those that offer high-end omakase sushi services or Michelin-starred restaurants always require a reservation.
What is the average cost of a meal at sushi restaurants in Japan?
Expect to pay a minimum of 2000 yen for quality sushi in Japan, however it depends on the restaurant. Some omakase sushi restaurants start at 5000 to 10,000 yen per person, while other sushi restaurants in Japan, like at conveyor belt sushi restaurants, are based on how many plates you eat, which are priced differently depending on the establishment and ingredients.
Sushi Restaurants in Japan
A quintessential Japanese food, the beloved Japanese sushi can be found in so many forms at different types of sushi restaurants in Japan. From rolled maki sushi to luxurious kaisendon sushi bowls to individual plates at conveyor belt sushi restaurants, sushi restaurants in Japan are as diverse as the sushi types they serve.
Different regions of Japan may even have their own local specialty style of sushi, depending on what is available in each region throughout the different seasons. Hokkaido is known for its high-quality seafood—like fresh crab and scallops—and sushi by extension. Kyoto is famous for "sabazushi" (a lightly vinegared mackerel sushi). Sushi restaurants in Tokyo carry the proud tradition of "Edomae" sushi, a type of sushi that originated in Tokyo and was considered to be a type of fast food, sold to on-the-go customers by street food stands.
Sushi restaurants in Japan range broadly from local family-run restaurants fitted out with tatami mats to higher-tech operations where you can seamlessly order your next sushi roll with the simple touch of a tablet. You can enjoy an elegant omakase sushi meal at a sushi restaurant in Osaka where a sushi chef prepares each and every piece right in front of your eyes, delicately shaping the rice by hand. Sushi restaurants in Kyoto at local markets serve up fresh sushi and friendly service. You can enjoy casual conveyor belt sushi for just over 100 yen per plate, or splash out several thousand yen at Michelin-starred restaurants in Tokyo.
No matter how you want to enjoy sushi in Japan, there are endless options for sushi restaurants in Japan to suit your budget. You can have a modern fast food sushi experience or a traditional sushi dining experience. Not sure where to start when it comes to sushi in Japan? Reserve a table or counter seat at a sushi restaurant to ensure you get the highest quality Japanese sushi experience.