Filters
Host Donations (high to low)
Newest First
Price (low to high)
Price (high to low)
Rating
Number of Reviews
Tailor-Made Tours
Can't find what you're looking for? We can plan a custom-made food experience or itinerary just for you.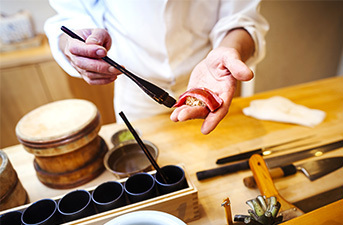 Kyoto Dining Experiences
Creativity and nature blend seamlessly in the gorgeous city of Kyoto. It's here in the cultural capital of Japan that beauty in nature and appreciation of the arts and craftsmanship has of course extended through to Kyoto's iconic cuisine. One of the best ways to experience the true food of Kyoto is by booking one of our fantastic Kyoto dining experiences. With a range of iconic and unique restaurants, you can enjoy a wonderful dining experience to suit your tastes.
Our dining experiences in Kyoto can cater to dietary restrictions too, so you can sit back and enjoy the food and the atmosphere to the fullest, no matter what your food preferences. Using colorful, locally-grown produce to create beautiful dishes in reference to the seasons, Kyoto's local cuisine, known as Kyo Ryori, is stunning and full of flavor. Much of Kyoto's delicious cuisine focuses on vegetable elements, meaning that many of our Kyoto dining experiences are easily vegan and vegetarian-friendly, too. If you have ever wanted to try Kaiseki Ryori (Japan's elaborate banquet-style meal) or Buddhist cuisine (Shojin Ryori) book one of our Kyoto dining experiences for a truly amazing meal! There is something for everyone, including luxury fine dining establishments and casual, cozy restaurants specializing in Kyoto cuisine.