Tokyo Cooking Classes
(68)
Japan is legendary for its culinary scene, and there's no better place to experience it than Tokyo. Taking a cooking class in Tokyo will teach you lifelong skills, activate your taste buds, and create memories to last a lifetime.
Filters
Host Donations (high to low)
Newest First
Price (low to high)
Price (high to low)
Rating
Number of Reviews
Tailor-Made Tours
Can't find what you're looking for? We can plan a custom-made food experience or itinerary just for you.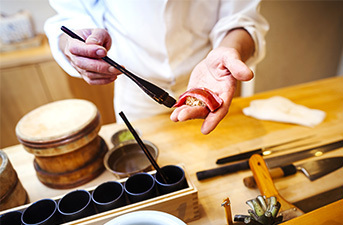 Cook Your Way Through Tokyo
Welcome to the eclectic city of Tokyo, where culinary delights and cultural immersion go hand in hand. Tokyo is a feast for the senses and a culinary playground where you can embark on an unforgettable gastronomic journey. And what better way to delve into Tokyo's food scene than by joining one of its exciting and immersive cooking classes? So grab your apron, sharpen your knives, and let's dive into the world of Tokyo cooking classes!
A Cooking Class for Every Taste, Skill Level, and Interest
Tokyo is a city that effortlessly blends tradition and innovation, and its culinary scene is no exception. From centuries-old cooking techniques passed down through generations to cutting-edge culinary creations, Tokyo offers diverse cooking classes that cater to all tastes and interests. Whether you're a novice cook eager to learn the basics or an experienced chef looking to master the art of Japanese cuisine, there's a cooking class in Tokyo that's perfect for you.
Now, you might wonder, "Why are cooking classes in Tokyo so special?" Besides learning how to create mouthwatering dishes, these classes offer a unique opportunity to immerse yourself in the local culture. You'll get a glimpse into the rich traditions and customs that have shaped Tokyo's culinary heritage while having a blast in the kitchen.
Cook With the Finest and Freshest Produce
One of the standout features of Tokyo cooking classes is the chance to work with fresh, high-quality ingredients. Tokyo's ingredients are a cook's dream, from impeccably fresh seafood at the famous Tsukiji Fish Market to the vibrant array of seasonal produce at local farmers' markets. So get ready to roll up your sleeves and embrace the beautiful flavors of Tokyo.
Tokyo Ramen and Sushi Cooking Classes
But let's not forget the true stars of Tokyo's culinary scene: sushi and ramen. These iconic dishes have captured people's hearts and taste buds worldwide, and learning how to make them in Tokyo is an experience like no other. Picture yourself meticulously slicing sashimi-grade fish under the guidance of a skilled sushi master or perfecting your ramen-making skills at a ramen cooking class in Tokyo. It's an adventure that will leave you with lifelong cooking skills and a deep appreciation for these beloved Japanese dishes.
I know what you're thinking: "But what if I'm not into seafood or noodles?" Fear not, my culinary friend! There's a wide range of Japanese cooking classes in Tokyo, offering diverse options to suit every palate. From mastering the art of delicate tempura and savory okonomiyaki to exploring the intricacies of wagashi (traditional Japanese sweets) and matcha tea ceremonies, there's something for everyone.
Connect With Fellow Foodies
Aside from the culinary adventure, Tokyo cooking classes also provide an excellent opportunity to connect with like-minded food enthusiasts worldwide. You'll meet fellow travelers, passionate home cooks, and maybe even make a lifelong friend or two. There's nothing quite like bonding over a shared love for food and exploration, and Tokyo's cooking classes create the perfect setting for these connections to flourish.
Tokyo Cooking Classes in English
Now, let's talk logistics. Tokyo boasts a plethora of cooking classes for every palate and skill level. Looking for a Tokyo cooking class in English? No worries. Plenty of English-speaker-friendly cooking classes with instructors guide you through the cooking process, making it accessible for locals and international visitors. So don't worry if your Japanese language skills are a little rusty; the language of food is universal.
Cooking classes in Tokyo offer a tantalizing blend of culinary education, cultural immersion, and unforgettable memories. Whether you're a seasoned cook or a beginner, Tokyo's vibrant food scene has something to offer you. So pack your appetite and a sense of adventure, and get ready to explore the flavors of Tokyo. Your taste buds will thank you, and you'll leave with a newfound appreciation for Tokyo's cuisine's artistry and deliciousness. Itadakimasu!