Osaka Cooking Classes
(17)
Make friends, develop lifelong skills, capture memories, & feast on Japanese food? Sign us up. Join an Osaka cooking class to make regional favorites alongside expert chefs and use your newfound culinary prowess to impress at your next dinner party.
Filters
Host Donations (high to low)
Newest First
Price (low to high)
Price (high to low)
Rating
Number of Reviews
Tailor-Made Tours
Can't find what you're looking for? We can plan a custom-made food experience or itinerary just for you.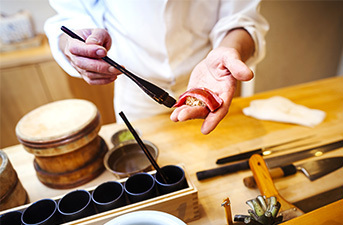 Osaka: A Food-Lovers Paradise
Osaka: The vibrant culinary capital of Japan! Prepare to embark on a delicious adventure filled with mouthwatering delights, unforgettable street food, and a culinary scene that will leave you craving more. And what better way to immerse yourself in the local food culture than by joining a lively Osaka cooking class? Let's dive into this gastronomic extravaganza and uncover the secrets of Osaka's culinary prowess.
Osaka's Food Scene
Osaka is a food lover's paradise, offering diverse culinary experiences that will tantalize your taste buds and ignite your senses. From sizzling takoyaki to savory okonomiyaki, the local street food scene is an absolute feast for the senses. Imagine walking through the bustling streets, enveloped in a symphony of enticing aromas and vibrant colors. The intoxicating scent of freshly grilled yakitori mingles with the tantalizing fragrance of dashi broth simmering in the air.
Osaka Okonomiyaki
Okonomiyaki is–without a doubt–Osaka's star dish. Okonomiyaki is a savory pancake loaded with shredded cabbage, topped with ingredients like succulent pork belly, fresh seafood, or gooey cheese. Get in on the battered action by joining an Okonomiyaki cooking class in Osaka!
Takoyaki Cooking Class in Osaka
Next up, Takoyaki: bite-sized octopus balls that have taken the world by storm. A crispy exterior with a creamy, tender center, and a chunk of octopus hidden within. Sprinkled with tangy sauce, mayo, and bonito flakes, these addictive treats are a must-try in Osaka. But beware! These bite-sized balls of bliss are piping hot (and renowned for it). From mixing the batter and pouring it into the moulds to adding the fillings and the final flip, an Osaka Takoyaki cooking class will see you mastering it all.
Osaka-Style Kushikatsu
And let's not forget Kushikatsu, the ultimate fried food lover's paradise. Skewered and deep-fried to golden perfection, Osaka-style, everything from succulent meat and crispy vegetables to gooey cheese and even ice cream gets the kushikatsu treatment. Dip each morsel into the tangy Worcestershire-based sauce and savor the crispy goodness.
Ramen Cooking Class in Osaka
Ramen: a humble yet complex combination of noodles, broth, and toppings that's beloved by… well, anyone that enjoys good food. But as we're in Osaka, let's zone in on the city's specialty bowl. What sets Osaka ramen apart is its unique regional style. The broth, typically made from a blend of pork bones and other secret ingredients, boasts a rich and savory flavor that is a hallmark of Osaka's ramen scene. The noodles, often medium-thick and curly, have a delightful chewiness that complements the broth perfectly. Toppings play a crucial role, with marinated slices of tender pork, green onions, bamboo shoots, and pickled ginger adding layers of texture and taste. Additionally, each ramen shop in Osaka prides itself on its own special touches, such as variations in the seasoning, spice level, and even the shape of the bowls used.
Exploring Osaka's ramen scene is like embarking on a flavorful journey, where you can indulge in diverse regional styles like Hakata, Kitakata–or the local specialty–Tokushima Ramen. But why just indulge when you can master the art of Osaka-style ramen yourself? Join a ramen cooking class in Osaka and unleash your inner noodle ninja. Learn the secrets behind crafting the perfect broth, from simmering bones and aromatic spices to creating layers of umami goodness. Dive into the technique of achieving the ideal noodle texture and master the art of garnishing with precision.
Joining a cooking class in Osaka is not just about learning to create delectable dishes; it's a cultural experience that immerses you in the heart and soul of the city. Our cooking classes are led by passionate chefs, dedicated home cooks, and local foodies who are eager to share their culinary expertise and guide you through the intricacies of Osaka's traditional cuisine. But don't expect a stuffy, formal environment – Osaka is known for its fun-loving spirit, and the cooking classes reflect that vibrant energy.
Osaka Cooking Class Experience
As you step into the lively cooking studio, you'll be greeted with warmth and enthusiasm. The atmosphere is buzzing with laughter and the clinking of utensils, creating an ambiance that immediately puts you at ease. Your classmates, a diverse mix of locals and travelers worldwide, are ready to embark on this culinary journey with you. Dietary restrictions? No worries! Vegetarian cooking classes in Osaka coming right up. Language barriers? A non-issue. We've curated a selection of the best cooking classes for foreigners in Osaka for you. English your native tongue? Never fear! In Osaka, cooking classes in English are plentiful.
From mastering the art of making fluffy and savory okonomiyaki pancakes to perfecting the technique of creating crispy and delicious takoyaki, you'll be guided through each step with patience and expertise. The classes are hands-on, ensuring that you get a true taste of the local culinary traditions. And don't worry if you're a beginner, our instructors take pride in making the cooking process approachable and enjoyable for everyone.
But it's not all work and no play! Cooking classes in Osaka are as much about fun as they are about learning. The lively atmosphere encourages interaction and camaraderie among the participants. You'll engage in friendly competitions to see who can flip the perfectly round okonomiyaki or stuff the takoyaki with the most finesse. Laughter and cheer fill the air as you bond over a love for food and the joy of creating together. And the best part? Once the cooking is done and dusted, it's time to savor the fruits of your labor. Gather around the table with your classmates, indulge in the feast you've collectively prepared, and revel in the flavors of Osaka.
Whether you're a passionate foodie or an adventurous traveler seeking a taste of Osaka's culinary delights, a Japanese cooking class in Osaka is an absolute must. Unleash your inner chef, make new friends, form valuable skills, and create memories that will last a lifetime.