Tailor-Made Tours
Can't find what you're looking for? We can plan a custom-made food experience or itinerary just for you.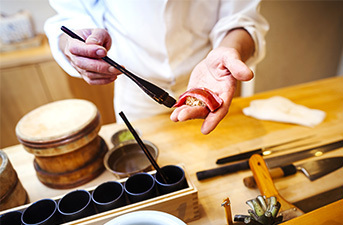 Tofu Restaurants in Kyoto
While its flavor and texture can be divisive (sometimes), tofu is a delicacy in some regions of Japan. In particular, Kyoto-style tofu is made with fresh water and accompanied with fine ingredients. Tofu production is like an art form, which you can taste in a range of dishes at tofu restaurants in Kyoto. Kyoto's tofu will prove the difference in eating superior quality of tofu. As Kyoto is well-known for its high quality tofu, this makes it a must-try dish when visiting the creative and cultural city. From "yudofu" in a tofu hot pot to soft soy milk skin known as "yuba," there are a range of soybean and soy milk products available throughout Kyoto Prefecture. Enjoy the simplicity and craftsmanship of tofu at one of the best tofu restaurants in Kyoto.
Soft and silken or firm and spongy, tofu is diverse and adaptable for a variety of traditional Japanese dishes. If you are looking for a unique tofu restaurant in Kyoto, there are plenty to choose from! This is because tofu in Kyoto is a local specialty. Made from quality soybeans and local waters, tofu dishes in Kyoto showcase the diversity of this staple Japanese ingredient. Tofu plays an important part in Japanese food; It's a favored protein in Japan that can be used many ways. If you are unsure about tofu, or on the other hand are a passionate soy supporter, the best way to enjoy it is at a specialty Kyoto tofu restaurant.
Tofu is also a great protein substitute with versatility when it comes to cooking as its mild flavor can take on diverse personas. Great for vegetarians and vegans, tofu makes up an important part of shojin ryori which is Buddhist cuisine, suitable for vegan travelers in Kyoto or anyone who wants to try this cultural cuisine. You can book to eat this shojin ryori at a vegan restaurant in Kyoto, or taste tofu at a Kyoto vegetarian restaurant. There are even tofu experiences available at a range of Michelin-starred restaurants in Kyoto, so reserve a seat on byFood to experience locally-made, authentic Japanese tofu in Kyoto.
Frequently Asked Questions
How to reserve tofu restaurants in Kyoto?
Tofu restaurants in Kyoto can be reserved by personally making a phone call to the tofu restaurant. In some instances, however, this can be difficult when there is the potential challenge of a new language. For those who don't speak Japanese, another solution is to use an online booking platform such as byFood. The platform offers a restaurant reservation system where you can filter restaurants according to specific areas, dietary preferences and needs, and cuisine (such as tofu, which is a delicacy in Kyoto). Once you have settled on the tofu restaurant you would like to dine at, just add your details into the restaurant page and byFood will make a reservation for you. You will receive a confirmation email when the reservation is successful, otherwise you will receive a failed reservation notification if unsuccessful.
Is a reservation required for tofu restaurants in Kyoto?
Not all tofu restaurants in Kyoto require a reservation, however it depends on the restaurant. Tofu is a local delicacy in Kyoto, so some specialty tofu restaurants are highly coveted and may have a popular following. In these cases, a tofu restaurant in Kyoto requires a reservation, but others can cater to walk-ins easily.
What is the average cost of a meal at tofu restaurants in Kyoto?
Tofu is one of the specialty dishes of Kyoto, so tofu restaurants in Kyoto usually cost between 2000 yen and 5000 yen, depending on the restaurant.