Kyoto Cooking Classes
(20)
Kyoto: Culinary heaven awaits in Japan's former capital. A Kyoto cooking class is an unforgettable experience that will gift you lifelong skills, unforgettable memories, and tango for your taste buds!
Filters
Host Donations (high to low)
Newest First
Price (low to high)
Price (high to low)
Rating
Number of Reviews
Tailor-Made Tours
Can't find what you're looking for? We can plan a custom-made food experience or itinerary just for you.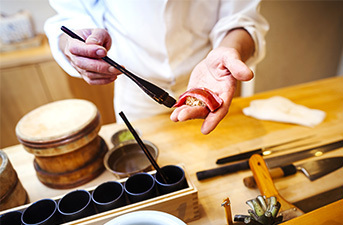 Frequently Asked Questions
What Is a Kyoto Cooking Class?
A Kyoto cooking class is a hands-on experience that allows you to learn the traditional techniques and recipes of Kyoto's renowned cuisine. You'll get to prepare and cook authentic Kyoto dishes under the guidance of experienced chefs.
What Can I Expect From a Kyoto Cooking Class?
In a Kyoto cooking class, you can expect to immerse yourself in the rich culinary traditions of Kyoto. You'll learn about the unique ingredients used in Kyoto cuisine, discover the art of presentation, and gain valuable insights into the cultural significance of each dish. Plus, you'll get to taste your creations!
Are Kyoto Cooking Classes Suitable for Beginners?
You bet! Kyoto cooking classes are designed to cater to all skill levels, including beginners. The hosts will guide you through the cooking process (step-by-step), ensuring you understand each technique and feel confident in recreating the dishes at home.
Do I Need To Bring Any Ingredients or Equipment to the Class?
No. Overall, Kyoto Cooking Classes provide guests with all the necessary tools, ingredients, and elements involved in the experience. However, we recommend reading through the experience description, highlights, inclusions, exclusions, and remarks thoroughly–this information (and any exceptions to the overall rule) will be listed in this section.
Can Kyoto Cooking Classes Accommodate Dietary Restrictions or Allergies?
Absolutely. We have a range of filters that allow you to customize your experience search–these filters include dietary restrictions. Generally, Kyoto cooking classes are flexible and can accommodate various dietary restrictions or allergies. Just inform the hosts in advance so they can make the necessary arrangements and provide alternative ingredients if needed. We also recommend keeping an eye on the 'Remarks' section on experience pages, as this section often lists this information.
What Will I Learn at a Kyoto Cooking Class?
A lot! Experiencing a cooking class in Kyoto will give you various knowledge, skills, and cultural insights. You'll learn about Japanese ingredients, regional recipes, flavor combinations, cooking tools, culinary culture, traditions, and beyond. Our Kyoto Cooking Class experiences are hand-selected, run by passionate hosts, and
Can I Book a Kyoto Cooking Class for a Group?
Yes. Kyoto Cooking Classes are a great group activity, family experience, bonding opportunity, and teambuilding tool. Just check the experience details and specify this information on the booking page (if applicable). However, it's worth noting that most Kyoto Cooking Classes (and experiences in general) are flexible and/or can accommodate a range of group sizes: Solo, pairs, small, medium, and large groups.
How Long Does a Typical Kyoto Cooking Class Last?
This varies depending on the type of class and experience. However, you can typically expect a Kyoto Cooking Class to last anywhere from 1 hour to 3 or 4–if ingredients and various recipe components are being created from scratch, the class may be on the longer end of the time spectrum. This allows for a comprehensive cooking experience without feeling rushed.
Can I Take Home the Recipes From the Kyoto Cooking Class?
Sometimes. This depends on the language ability and other elements of the experience, however typically, if a host has English-language skills, they create a recipe booklet to complement the cooking class.
How Do I Book a Kyoto Cooking Class?
First, use the search bar and filters to find a specific experience. Then, select the date for the experience and the number of participants. Add extra information–such as dietary restrictions–in the additional notes section. Then, make the payment. If the host has set the experience to 'Instant Confirmation,' the booking will be confirmed automatically. If the host has set the experience to 'Manual Confirmation,' the host will either confirm or reject your booking. You'll likely receive a reply within one business day. After confirmation, you will receive detailed meeting instructions and access info.
Kyoto Cuisine
Kyoto is a city that effortlessly combines ancient traditions with modern delights, and nowhere is this more evident than its incredible culinary scene. As you stroll through Kyoto's picturesque streets, the tantalizing aromas of freshly prepared dishes waft, inviting you to embark on a culinary adventure like no other. From traditional tea ceremonies to mouth-watering street food, Kyoto offers a sensory feast that will leave you hungry for more. And what better way to immerse yourself in Kyoto's food culture than by joining one of its captivating cooking classes? So put on your chef's hat, sharpen your chopsticks, and dive into the delectable world of Kyoto cooking classes!
Japanese Cooking Classes in Kyoto
Kyoto is a city steeped in history and tradition, and its culinary heritage reflects this. Traditional Kyoto cuisine, known as Kyo-ryori, is an art form, characterized by its emphasis on seasonal ingredients, delicate flavors, and impeccable presentation. From the subtle elegance of kaiseki, a multi-course meal that showcases the essence of Kyoto's culinary mastery, to the intricate artistry of wagashi, traditional Japanese sweets that are almost too beautiful to eat, Kyoto's culinary offerings are a feast for both the eyes and the taste buds.
Now, what makes Kyoto cooking classes so special? Aside from learning how to create exquisite dishes, these classes offer a unique opportunity to immerse yourself in the city's cultural heritage. You'll not only master the techniques behind traditional Kyoto cuisine but also gain a deeper understanding of the customs, rituals, and stories that have shaped Kyoto's culinary traditions over the centuries.
Seasonal Cooking in Kyoto
One of the highlights of Kyoto's food scene is the emphasis on seasonal and locally sourced ingredients. In Kyoto, the changing seasons are celebrated through the vibrant flavors and colors that grace the dining tables. Kyoto's cuisine reflects the beauty of nature's bounty, from the delicate cherry blossoms of spring to the rich hues of autumn leaves. In a cooking class, you'll have the chance to work with these fresh, seasonal ingredients and transform them into culinary masterpieces that capture the essence of Kyoto's seasons.
Kyoto Street Food Cooking Class
Kyoto is also renowned for its street food scene, which offers a tantalizing array of quick bites and snacks that are the perfect fuel for exploring the city's buzzing markets and narrow alleyways. Join a Kyoto street food cooking class and make the beloved taiyaki–a fish-shaped stuffed pancake). Or perhaps you'd like to try making yatsuhashi–sweet, cinnamon-flavored treats made from glutinous rice. We can't forget about our bite-sized octopus ball friends–takoyaki! Kyoto's cooking classes provide a chance to delve into the world of street food and experience the vibrant flavors that permeate the city's vibrant food culture.
Vegan and Vegetarian Cooking Classes in Kyoto
Kyoto, a city known for its rich culinary traditions, offers an exciting culinary adventure even for those following a vegan or vegetarian lifestyle. If you're a fan of ramen and gyoza, you're in for a treat with the vegan ramen and gyoza cooking class in Kyoto.
This immersive cooking experience allows you to dive into plant-based Japanese cuisine while honing your culinary skills. Join a knowledgeable instructor who will guide you through creating veg-forward ramen or gyoza from scratch. Start by learning the art of making flavorful vegetable broth that serves as the foundation of the ramen. Discover the perfect combination of umami-rich ingredients, such as miso, soy sauce, and seaweed, to create a broth that rivals its meat-based counterparts. Next, master the art of preparing handmade ramen noodles with perfect texture and springiness.
Moving on to gyoza, you'll learn how to make delicate dumpling wrappers and fill them with a delectable mixture of vegetables, tofu, and seasonings. Perfect your folding techniques to create the iconic gyoza shape and achieve that delightful crispy-bottom texture when pan-fried. Throughout the class, you'll also gain insights into the cultural significance of these dishes, as the instructor shares stories and techniques passed down through generations. It's an opportunity to expand your vegan cooking repertoire and deepen your understanding of Japanese culinary traditions.
Kyoto Cooking Class in English
From traditional machiya (traditional wooden townhouse) cooking schools and humble home kitchens to modern culinary academies and workshops, you'll find a range of classes suited to your interests and skill level. Many classes are conducted in English or offer English-speaking instructors, making them accessible to international visitors. To truly experience Kyoto's culinary wonders, join a Kyoto cooking class. Step into the kitchen with passionate and skilled instructors who will guide you through the intricacies of Japanese cuisine. Learn the art of sushi-making, perfect the balance of flavors in a miso soup bowl, or create intricate tempura dishes. These classes offer hands-on culinary experiences and provide insights into the cultural significance of your dishes.