Filters
Host Donations (high to low)
Newest First
Price (low to high)
Price (high to low)
Rating
Number of Reviews
Tailor-Made Tours
Can't find what you're looking for? We can plan a custom-made food experience or itinerary just for you.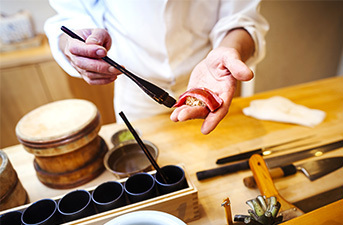 Top Hands-on Cooking Classes in Kyoto
There's nothing quite like the food culture of Kyoto — some of Japan's most famous local dishes and cuisines originated here. Shojin ryori (the vegetarian cuisine of Japanese Buddhist monks) and the Japanese tea ceremony started here, making it the perfect place to discover traditional Japanese cuisine. Additionally, Kyoto has its regional cuisine known as "Kyo ryori" and is also the birthplace of the Japanese kaiseki cuisine, a banquet-style multi-course meal made with seasonal ingredients. If you're looking for things to do in Kyoto, why not learn to cook your own Kyoto cuisine with tips from an expert?
One of our most popular experiences in Kyoto is learning how to make your very own Japanese bento during a bento-making class! It is an excellent introduction to Japanese cuisine. First, learn the basics of 6 popular Japanese dishes, including deep-fried tempura and omurice, using staple ingredients like soy sauce, sake, and dashi. Then, assemble your bento and enjoy your hard work afterward by dining with your Japanese cooking teacher and new friends!
While bento making is perfect for home-cooking, there are also classes that will give you hands-on experience in local Japanese restaurants. To learn how to make classic Japanese pub food, try out an experience at an izakaya! An izakaya is a Japanese pub serving alcohol, snacks, and food, and is the perfect place to connect and chat with locals. Not only will you experience genuine Japanese food culture, but you'll also pick up Japanese cooking skills while making classic izakaya dishes. After completing six different types of izakaya foods, devour your delicious creations alongside a couple of drinks.
Cooking classes are not just limited to studios and restaurants- we offer market tours as well! Nothing gives you a more in-depth and immersive Japanese culture experience than a tour with a local guide. So, why not complete your Kyoto adventure with a tour and a cooking class in one? A local tour guide will bring you around Kyoto's famous Nishiki Market, full of local products, handmade utensils, and more. Educate yourself on Japanese cuisine, including seasonal produce and essential cooking tools, in a Japanese kitchen.
These are just a few examples of the many cooking classes we offer in Kyoto. A Japanese cooking class gifts you with lifelong Japanese cooking skills and allows you to connect with locals and like-minded travelers who share an appreciation for Japanese cuisine. Learn how to make classic Japanese dishes, explore new areas, and connect with locals and other travelers over shared meals. Additionally, many Kyoto cooking classes can accommodate guests with dietary restrictions. Adding a Kyoto cooking class to your itinerary makes for a wonderful experience during a trip to Japan's cultural capital!
Frequently Asked Questions
Are there vegan cooking classes in Kyoto?
How can book a Kyoto cooking class?
You can book right here on byFood! Select whichever class you are interested in, choose the amount of people in your party, and your preferred date and time, then click the red "book now" button.
What is the minimum number of participants for booking a Kyoto cooking class?
For most cooking classes in Kyoto, the minimum number of participants is two. However, there are some classes that can accommodate solo travelers.
Can I take photos during my Kyoto cooking class?
In most cases, yes! However, some hosts have rules about when photography is allowed, and will inform you before the start of the class of their photography policy.
Can I have a private cooking class in Kyoto?
If you are interested in booking a private cooking class but do not see the option available, please
contact us
directly and we will do our best to accommodate your request.