Seat Reservation
OSAKA
Ganesh N
Trust in this curry specialty store to surprise you with a new type of curry each day.
Tailor-Made Tours
Can't find what you're looking for? We can plan a custom-made food experience or itinerary just for you.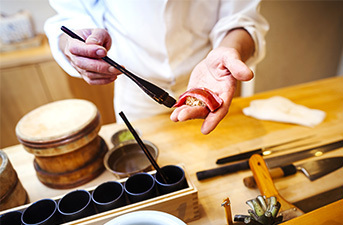 Frequently Asked Questions
How to reserve vegan restaurants in Osaka?
In most cases, vegan restaurants in Osaka can be reserved by directly calling that restaurant. Sometimes this can be difficult if the staff do not speak English or if some other language barrier occurs. Alternatively, you can secure a table online through a platform that helps foreigners to reserve restaurants. ByFood is a website that allows vegan restaurants to be reserved in Osaka and other areas in Japan. With the handy filters, you can easily search for restaurants in your desired area, and for different types of cuisines. It is a good idea to reserve using byFood to ensure that any dietary requirements can be accommodated for. Simply search for vegan restaurants and add your reservation details to the restaurant page. Wait for a confirmation via email as byFood makes a reservation on your behalf. You will receive a failed reservation email if it was not successful.
Is a reservation required for vegan restaurants in Osaka?
Vegan restaurants in Osaka generally do not require a reservation, however in some cases like at popular vegan restaurants or high-class restaurants, they might. This depends on the restaurant, but it is a good idea to reserve ahead of time to ensure an entirely plant-based meal.
What is the average cost of a meal at vegan restaurants in Osaka?
High-end vegan meals in Osaka can start at 4000 yen per person, but the average vegan meal will cost around 1500 yen to 2000 yen, depending on the restaurant.
Vegan Restaurants in Osaka
Osaka takes its food seriously. That means, even travelers who live by a plant-based diet don't have to miss out on delicious Kansai region food available at restaurants in Osaka. Vegan food in Osaka is easier to find than you think, with thousands of restaurants across the city offering vegan-friendly dining options. You can also find fully vegan restaurants serving both Japanese and Western style food menus, so you can have your pick in Japan's culinary capital. Whether it be vegan wagashi sweets or plant-based Japanese curry, vegan travelers visiting Osaka do not have to worry about what they can eat!
So what's on offer? You can enjoy vegan ramen made from meat-free broth (still packed with punchy umami flavors), and munch on a side of veggie gyoza at one of Osaka's vegan restaurants. There are also okonomiyaki restaurants offering vegan options so that you don't have to miss out on this sizzling Osaka speciality pancake! You can find vegan-friendly izakaya pubs and enjoy a wild night out with organic drinks flowing and delicious vegan Japanese food. Whatever vegan dining experience you are after, there will be a vegan restaurant in Osaka that will satisfy your taste buds with traditional and tasty plant-based fare. Make a reservation at one of Osaka's vegan Japanese restaurants on byFood. We also offer a range of vegan food tours in Osaka and vegan cooking classes, as well!