Filters
Host Donations (high to low)
Newest First
Price (low to high)
Price (high to low)
Rating
Number of Reviews
Tailor-Made Tours
Can't find what you're looking for? We can plan a custom-made food experience or itinerary just for you.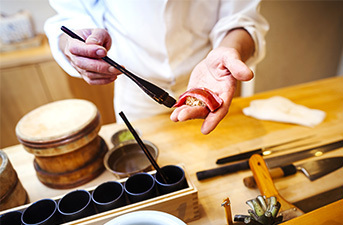 Enroll in Top Vegan Cooking Classes in Osaka
Not all Japanese food is packed with fish and chunks of meat, although it can be hidden away in ingredients like dashi soup stock. Thankfully, vegan Japanese food is on the rise as plant-based diets are gaining traction around the world, so you can enjoy it in Japan's foodie capital of Osaka, too. If you don't know about restaurants serving up vegan dishes, it can be difficult to find vegan food in Osaka on your own. A great solution could be learning how to make your own vegan food by joining one of our vegan cooking classes in Osaka! Vegan dishes you make during one of our vegan cooking classes in Osaka are still packed with flavor, so don't worry, your creations will still be delicious. You can make new friends as you discover handy hacks on how to be vegan in Japan while cooking your own delicious vegan Kansai cuisine. You can become a vegan ramen chef for a day or create vegan sushi from vegetable ingredients. Even if you're not strictly vegan, it can be a fun day out that offers a healthier option in comparison to the heavy Kansai-style foods that you find everywhere in Osaka. Check out our vegan cooking classes in Osaka here on byFood.