Tailor-Made Tours
Can't find what you're looking for? We can plan a custom-made food experience or itinerary just for you.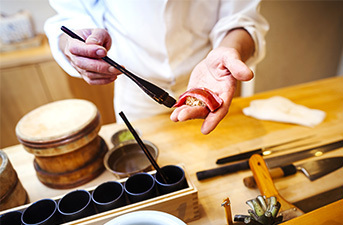 Frequently Asked Questions
How to reserve vegetarian restaurants in Osaka?
Usually, customers can book vegetarian restaurants in Osaka by directly calling the restaurant on the phone. Sometimes, this can be difficult due to language barrier issues. It is best to book using online platforms just like byFood so that nothing gets lost in translation. ByFood is made to assist foreigners, including travelers who want to make a reservation at restaurants. On byFood, you can even filter vegetarian restaurants in different regions such as Osaka according to different meal types and budgets. Simply enter your reservation details into your desired vegetarian restaurant page and submit. ByFood will then submit a reservation to the restaurant for you. You will then receive a confirmation email, or if the reservation is not accepted, you will instead receive an email saying the request was denied.
Is a reservation required for vegetarian restaurants in Osaka?
In most cases, vegetarian restaurants in Osaka do not require a reservation. However, some do, but this depends on the vegetarian restaurant. The popular ones do require a booking, particularly fine dining restaurants or popular establishments.
What is the average cost of a meal at vegetarian restaurants in Osaka?
The average cost of a vegetarian meal in Osaka is 1500 yen for a more inexpensive restaurant. Vegetarian restaurants in Osaka start at 2000 yen per meal at dinner time, but this depends on the restaurant.
Vegetarian Restaurants in Osaka
Hold the fish and meat, but add in the extra umami! Vegetarian restaurants in Osaka don't slack off when it comes to flavor. Morish local food from Osaka in Japan's Kansai region certainly does not require meat or fish! Thankfully, there are so many restaurants in Osaka with plenty of vegetarian options, as well as specialty vegetarian restaurants in Osaka also bringing an array of amazing vegetarian Japanese dishes up to the plate.
Vegetarian ramen, tempura and Japanese curry are just some of the typical options available for environmentally-conscious plant-based eaters who are visiting Osaka. Vegetarians can enjoy vegetarian sushi made with vegetables at a range of sushi restaurants in Osaka, or experience a multi-course banquet at a traditional kaiseki restaurant. Vegetarian restaurants in Osaka serve up delicious slabs of okonomiyaki with vegetables, noodles, mochi rice cakes inside as a vegetarian-friendly Japanese food alternative.
From locally-run vegetarian cafes to upscale fine-dining restaurants that offer meat-free meals, you can find all this and more with so many vegetarian restaurants in Osaka available and waiting to be discovered. Lock in your delicious vegetarian dining experience without the hassle of having to navigate Japanese menus before you go. Enjoy the best vegetarian Japanese food at one of Osaka's vegetarian restaurants by reserving on byFood.