Tailor-Made Tours
Can't find what you're looking for? We can plan a custom-made food experience or itinerary just for you.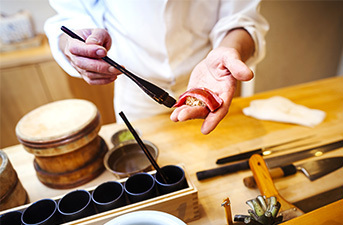 Frequently Asked Questions
How to reserve sushi restaurants in Osaka?
Advance reservations of sushi restaurants in Osaka can be made by directly calling the restaurant over the phone. However, depending on the restaurant, you might be faced with language barriers, which make it difficult to successfully make a reservation. One of the safest ways to secure a seat at a sushi restaurant in Osaka is the book ahead using an online platform. ByFood is one of the many websites that help foreigners to reserve restaurants, including sushi restaurants. Using filters, you can narrow down the different areas of Osaka that you would like to dine in, as well as the style of sushi restaurant. This will give you a range of sushi restaurant options in Osaka which you can select and directly reserve through the page dedicated to the restaurant of your choice. ByFood will contact the restaurant on your behalf and email you with a confirmation if your reservation is successful. You will also be contacted by email if the reservation fails.
Is a reservation required for sushi restaurants in Osaka?
High-end sushi restaurants in Osaka always require a reservation. In many cases, particularly at highly-rated sushi restaurants, they only have a few sittings or a limited number of seats. At some more casual sushi restaurants, it is not possible to make a reservation ahead, like at some conveyor belt sushi restaurants. Whether a reservation is required depends on the sushi restaurant.
What is the average cost of a meal at sushi restaurants in Osaka?
The average price for a sushi meal in Osaka is 2000 yen. This depends on the type of sushi restaurant, types of sushi available, and the quality of the ingredients. Sushi train style restaurants tend to be very affordable, while there are many high-class restaurants for sushi where you can watch the sushi chef at work from the counter seat, and it may cost you upwards of 5000 yen.
Sushi Restaurants in Osaka
Travelers to Osaka tend to think of takoyaki and okonomiyaki first when visiting the Kansai area. In a city that is so unashamedly proud of their eccentric and excitable food culture (and rightfully so), these signature local dishes are so undeniably morish! However, the amazing sushi restaurants in Osaka also deliver if you want to eat something more fresh and simple during a local dining experience. Seafood in Osaka is always of outstanding quality, meaning that of course the city's sushi is always exceptional in its standard of freshness and flavor. After all, Osaka is a port city so it is no surprise that sushi culture runs through its veins.
With plenty of access to freshly caught fish and seafood, sushi restaurants in Osaka are well-equipped with plenty of different sushi options, no matter how you like to eat your sushi. Spanning from Osaka's city hubs of Namba to Minami and beyond, you can find sushi experiences in Osaka scattered across different pockets of the city. Succulent, high-quality sushi in Osaka is the absolute dream! There are so many types of amazing sushi restaurants in Osaka, how could you choose? Let us help you out. Skip the queues and plan your sushi experience on byFood.
Find standing sushi restaurants in the bustling mainstreets of Dotombori, or hide away from the sites and enjoy sushi at an intimate conveyor belt sushi restaurant. Osaka can be seen as a little rambunctious, but if you are looking for an Osaka sushi restaurant that is a little more sophisticated, you could try one of the Michelin-starred restaurants in Osaka with sushi served omakase (chef's choice) style. Prepared in front of you at an intimate counter seat restaurant, you could never forget a sushi experience like it!