Seat Reservation
KYOTO
Honke Tankuma Honten
Explore the various seasons in Japan through Kyoto-style kappo cuisine at Honke Tankuma Honten, where they craf special course meals for everyone.
Tailor-Made Tours
Can't find what you're looking for? We can plan a custom-made food experience or itinerary just for you.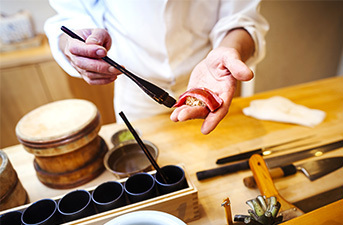 Frequently Asked Questions
How to reserve halal restaurants in Kyoto?
Halal restaurants in Kyoto generally allow reservations to be made by calling the restaurant in advance. To avoid any confusion and to ensure that there is a halal option on the menu, you can use an online platform to help you make a reservation. Websites such as byFood help foreign travelers to reserve restaurants, which is particularly useful for those adhering to strict dietary restrictions or preferences. You can search for halal restaurants in Kyoto on byFood, where the platform will give you restaurant options which are also easily filtered by area and meal type. Select your prefered halal restaurant in Kyoto and add your details to the restaurant page. ByFood then will submit a reservation request on your behalf. If the reservation is approved, you will receive a confirmation email. Otherwise, you will receive a rejection email.
Is a reservation required for halal restaurants in Kyoto?
Most halal restaurants in Kyoto do not require a reservation. However, it is recommended to book a Kyoto halal restaurant ahead of time so that Muslim diners can be sure that the halal restaurant of their choice has a table available.
What is the average cost of a meal at halal restaurants in Kyoto?
The average halal meal in Kyoto will cost around 2000 yen. This depends on the restaurant, however. More expensive or upscale restaurant options can start around 4000 yen.
Halal Restaurants in Kyoto
If you are a Muslim traveler visiting the beautiful city of Kyoto, you can experience authentic Japanese cuisine while adhering to your halal dietary requirements. After all, food is a huge part of any cultural journey, so you can enjoy Japanese cuisine without making exceptions to your faith. Experience some deliciously intricate seasonal Kyoto kaiseki cuisine that is both halal and authentic, or try local tofu with halal ingredients at a specialty tofu restaurant in Kyoto. Taste grilled yakiniku using halal meats, or even slurp up ramen noodles that are Muslim-friendly. You don't have to go hungry or miss out on the incredible local food in Kyoto!
Finding somewhere to eat that is halal-friendly can be stressful when traveling, but there is no need to worry in such a relaxed and beautiful city as Kyoto. We have got you covered! There are plenty of accommodating Halal restaurants in Kyoto just waiting to be discovered among our list of halal-friendly restaurants. Reserve your seats at a Kyoto halal restaurant before you go and save yourself time and stress, and just enjoy an unforgettable meal of Japanese food.
Hidden among the beautiful temples and shrines of Japan's cultural capital, you can find an array of wonderful restaurants and halal food tours in Kyoto so that you do not have to miss out on delicious Japanese cuisine. Serving up a variety of high-quality Japanese food dishes made from only halal ingredients, Muslim travelers can enjoy the best of certified halal Kyoto cuisine and local produce without missing out!