Ajikitcho Horie
A traditional restaurant which represents the spirit and dishes of Osaka, which accommodates the needs of modern international diners.
Tailor-Made Tours
Can't find what you're looking for? We can plan a custom-made food experience or itinerary just for you.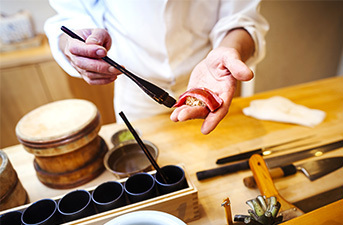 Halal Restaurants in Osaka
As the third biggest city in Japan, Osaka has plenty of halal Japanese food options and halal dining experiences suitable for Muslim visitors. Also infamous for its full-blown obsession with food, Osaka is the perfect place to come to try the delicious Kansai cuisine on offer! This is why there are countless halal-friendly food options and certified halal restaurants in Osaka. You can also enjoy the full izakaya dining experience without alcohol on a night out during a halal food tour in Osaka, featuring a Muslim-friendly menu.
Try delicious halal sushi at a sushi restaurant in Osaka, or enjoy tasting different yakitori grilled chicken sticks at halal restaurants in the glitzy central Dotonbori district. From Namba to the Minami areas, the city focuses so much on food so you can certainly find many Osaka restaurants where you can enjoy an innovative Muslim-friendly menu with dishes that suit your dietary requirements available. Try halal wagyu or even Japanese curry made from halal ingredients; after all, food diversity is what Osaka is all about!
If you need help to find somewhere delicious to eat when adhering to halal dietary requirements, finding a restaurant with a halal menu in Japan has never been easier with byFood, where you can make your reservation easily in English. You can find your new favorite halal restaurant in Osaka by browsing our restaurants and reserving with us before you go. Take the stress out of finding somewhere to eat and enjoy a halal dining experience in Osaka, or try making your own traditional Japanese food during a halal cooking class.
Frequently Asked Questions
How to reserve halal restaurants in Osaka?
You can reserve seats at a halal restaurant in Osaka by making a direct phone call to the restaurant. Unfortunately, you might have some difficulties if you do not speak Japanese. This is likely to be something you would want to avoid if you need to ensure there is a halal food option when reserving a restaurant in Osaka. Save yourself the stress, you can use a service such as byFood to make a reservation online. Ensure that you get a halal restaurant in Osaka that suits your dates, area, and budget. ByFood makes it easy for foreigners to reserve at restaurants, as all you have to do is add your details to your desired restaurant page. ByFood will then contact the halal restaurant on your behalf and contact you by email if the reservation is successful. If it is rejected, you will receive a notification via email.
Is a reservation required for halal restaurants in Osaka?
Making a reservation at a halal restaurant in Osaka is not usually essential, although some do require it. It depends on the restaurant. Regardless, it is a safer option to reserve a table ahead so that you can be sure that your meal is up to halal standards.
What is the average cost of a meal at halal restaurants in Osaka?
When dining at halal restaurants in Osaka, expect to pay around 2000 yen for a meal at lunchtime, but starting from 3000 yen for dinner. However, this depends on the restaurant, so be sure to check out the restaurant page on byFood.