Filters
Host Donations (high to low)
Newest First
Price (low to high)
Price (high to low)
Rating
Number of Reviews
Nostalgic Shinsekai Osaka Street Food Tour
Osaka's retro Shinsekai district is designed to evoke a cross between Coney Island and Paris–and it's truly a wonderland of street food. Get your munchies satisfied on this tour of the cheerful, bustling neighborhood.
Osaka Kuromon Market and Kitchen Town Tour
Visit Osaka's bustling Kuromon Market for top-quality produce, meats, and street foods; then check out Sennichimae Doguyasuji, a.k.a. Osaka's "Kitchen Town," and admire the craftsmanship of kitchen items like knives, pottery, and lacquerware!
Backstreets of Osaka Food Tour at Night
Join this tour in Minami Osaka, where gleaming lanterns light the path from restaurant to restaurant, and larger-than-life food signs indicate glorious gyoza and seafood within. Explore 4 food stops and a local restaurant with a knowledgable guide.
Tailor-Made Tours
Can't find what you're looking for? We can plan a custom-made food experience or itinerary just for you.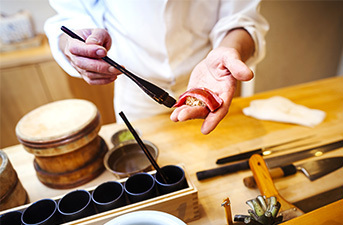 Halal Food Tours in Osaka
Kansai cuisine is known for packing a lot of textures and flavors into its signature dishes, like grilled okonomiyaki (savory pancakes) and squishy takoyaki (octopus balls). However enticing and delightful, it can be tricky navigating Osaka's culinary delights if you follow Islamic dietary restrictions. But, no need to worry! You can get your fix of awesome halal street food, sushi, sweets, meats and more by joining one of our halal food tours in Osaka. Following a delicious halal itinerary, we can show you the best of Japanese culture and famous foodie attractions as you explore the city with one of our local guides.
Halal food tours in Osaka will introduce you to the coolest places and restaurants in the city. Without missing out on Osaka's awesome Kansai cuisine, you can enjoy authentic Japanese food that's also halal with accommodations for your dietary restrictions. Hit up the busy Kuromon Market or wander through the neon-lit streets of Dotombori with the help of a local guide. They can help you to discover the best of the city, and ensure you have a delicious day of dining on Osaka's finest halal food delights. Whatever you're craving, we have halal food tours in Osaka catering for your dietary needs.