Filters
Host Donations (high to low)
Newest First
Price (low to high)
Price (high to low)
Rating
Number of Reviews
Sake Tasting at Niigata's Oldest Shinto Shrine
Journey to the home of sake (Niigata) to learn about Japan's beloved rice wine! You'll experience a tasting, info session, & appetizer pairing in the main hall of the region's oldest Shinto shrine alongside a knowledgeable guide.
Niigata Sake Tour, Tasting, & Masterclass
Discover the world of sake in Niigata, a region that produces some of the finest in Japan. Learn sake history, customs, & culture from a Professional Sake Meister (Kikisake-Shi) then participate in a sake-tasting session. Appetizers included!
Tailor-Made Tours
Can't find what you're looking for? We can plan a custom-made food experience or itinerary just for you.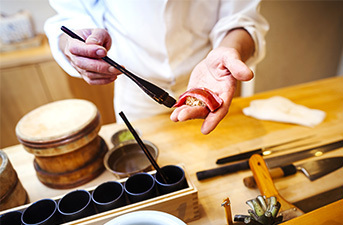 Niigata Sake Tours
A port city facing the Sea of Japan in the Chubu region, Niigata is famous for its gorgeous coastal scenery and mountainous landscapes, high-quality rice production, and of course, its premium local sake. Populated with a seriously impressive amount of Japanese sake breweries, Niigata is one of Japan's best and largest sake-producing regions specializing in local Japanese sake made from regional ingredients. With snowfall in Niigata comparable to Whistler in Canada, it is a popular destination during the ski season, and the plentiful snow means incredibly pure waters. This leads to quality local rice and excellent conditions for slow sake fermentation, which you can discover during a Niigata sake tour. Learn about ingredients and the production as you compare different locally made premium Niigata sake, and take your tastebuds on a journey through the flavors of Niigata during a Niigata sake tour! Hop your way through the best sake breweries in Niigata, or perhaps delve deep into the production of just one brewery's best kept sake secrets. With an innovative approach to crafting sake, Niigata produces some of the highest quality sake in Japan.