Filters
Host Donations (high to low)
Newest First
Price (low to high)
Price (high to low)
Rating
Number of Reviews
Bento Making Class in Kyoto
Learn about the essential components of washoku (Japanese cuisine) during this bento making class in Kyoto. Make a balanced meal of six different dishes including tempura, teriyaki chicken, and miso soup, with your friendly cooking teacher.
(7)
Tailor-Made Tours
Can't find what you're looking for? We can plan a custom-made food experience or itinerary just for you.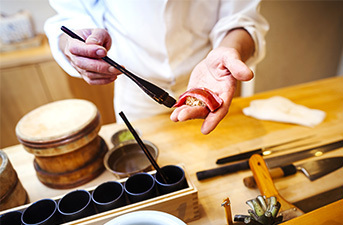 Bento Cooking Classes in Kyoto
Build your own bento during these bento cooking classes in Kyoto! Japan has a long tradition of packed bento boxes, which range from the cute and colorful homemade versions made lovingly by moms to the elaborate multi-tiered bento-like boxes of Osechi Ryori (symbolic Japanese New Year foods). In Kyoto, you can make the most of the fresh local produce and delicious seafood from the neighboring Sea of Japan. During these bento cooking classes in Kyoto, you will learn how to make classic Japanese dishes, such as teriyaki chicken, tamagoyaki (rolled omelet), tempura, and sushi rolls, and artfully arrange them in a beautiful bento box. In a home kitchen setting or a cooking studio, your cooking instructor will guide you through each step. And at the end of the Kyoto bento making class, you'll be able to sit down and enjoy the fruits of your labor! You will also get to take home the recipe. It's the perfect souvenir from your trip to Kyoto, and you will be able to make your own Japanese bento and impress your family and friends back home. Join a bento making class in Kyoto and experience a hands-on, immersive Japanese food experience!