Filters
Host Donations (high to low)
Newest First
Price (low to high)
Price (high to low)
Rating
Number of Reviews
Roux and Rice: Japanese Curry Cooking Class in Tokyo
Make Japanese curry at a home cooking class in Tokyo! From preparing the roux to making the rice, soak up the curry-making experience and develop lifelong cooking skills along the way. End on a tasty note by enjoying your handmade meal.
Let's Make Authentic Japanese Curry: Cooking Class in Tokyo
Ready to become a Japanese curry master? Learn how to conjure curry from scratch at this cooking class in Setagaya, Tokyo. Uncover the rich history of curry as you simmer up its deep flavors. Elevate your culinary skills with a dash of spice!
Tailor-Made Tours
Can't find what you're looking for? We can plan a custom-made food experience or itinerary just for you.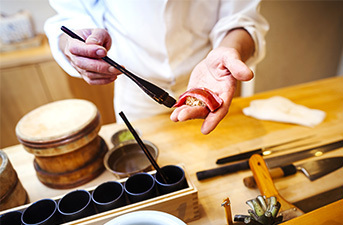 Choose From Several Curry Cooking Classes in Japan
A stew of vegetables like onion, potatoes, and carrot, enveloped in a thick, hearty sauce, Japanese curry is the epitome of comfort food. It's completely different from its Indian counterpart; Japanese curry is uniquely Japanese. Slightly sweet, often with fruity notes, and very savory, Japanese curry often draped over rice or paired with udon noodles. Considered a yoshoku (Western food) dish, Japanese curry came to Japan by way of Britain. Unlike Indian curry, Japanese curry is on the sweeter side, and much less spicy. The mild spice level makes it perfect for those who can't handle spicy dishes. During these curry cooking classes in Japan, you'll learn how to make mouthwatering Japanese curry. Maybe you'll top your Japanese curry with a tonkatsu pork cutlet, or maybe you'll make the classic curry rice dish. Whatever curry cooking class in Japan you join, you'll be sure to come away with a full, satisfied belly and a tasty new recipe to make for your family and friends back home.