Filters
Host Donations (high to low)
Newest First
Price (low to high)
Price (high to low)
Rating
Number of Reviews
Tailor-Made Tours
Can't find what you're looking for? We can plan a custom-made food experience or itinerary just for you.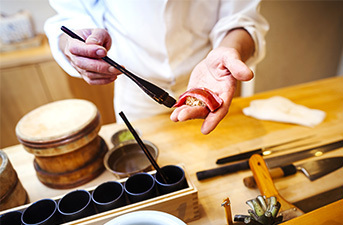 Browse The Top Ramen Cooking Classes in Japan
Ramen is a dish with infinite possibilities! Learn how to make ramen from scratch and explore the varieties of this beloved Japanese dish during these ramen cooking classes in Japan! Choose from several ramen cooking classes with seasoned Japanese cooking teachers, and learn to make your own handmade ramen noodles, vegetarian ramen, vegan ramen, and more. The best accompaniment to a steaming bowl of ramen is some crispy and succulent pan-fried gyoza, and many classes will also teach this additional Japanese food! Once you've learned how to make ramen during these ramen cooking classes, you'll be able to recreate the mouthwatering dishes at home. Take home the recipes and impress your family and friends in your own kitchen. What's better than thick chewy noodles, hot and warming broth, and toppings of your choice? Browse ramen classes in Japan now and let's get cooking!