Filters
Host Donations (high to low)
Newest First
Price (low to high)
Price (high to low)
Rating
Number of Reviews
Tailor-Made Tours
Can't find what you're looking for? We can plan a custom-made food experience or itinerary just for you.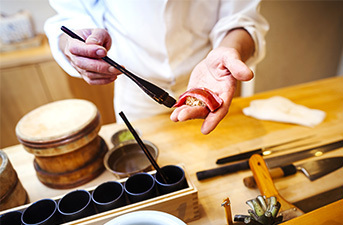 Book Vegetarian Cooking Classes and Workshops in Japan
Being vegetarian in Japan can be a little challenging. There always seems to be fish flakes sprinkled on your dish or a hidden meatball in a bento box. It might be hard to communicate your dietary restriction to servers at restaurants, as not a lot of Japanese people are vegetarian, although more and more restaurants are catering to visitors from abroad who are more conscious about their diets. These vegetarian cooking classes in Japan are also at your disposal, so you can make your own Japanese vegetarian food.
If you want to try vegetarian sushi in Japan, you're in luck, as there are a variety of vegetarian cooking classes in Japan. Using plant ingredients, you can make the most colorful and delicious Japanese sushi, or an adorable character-themed bento. You don't have to miss out on ramen, okonomiyaki, gyoza, or tempura, either. These vegetarian cooking classes will introduce you to plant-based Japanese dishes and easy vegetarian substitutes. Explore vegetarian cooking classes in Tokyo, plant-based cooking workshops in Osaka, and local Japanese cooking instructors other areas in Japan to find your perfect Japanese cuisine experience.