Filters
Host Donations (high to low)
Newest First
Price (low to high)
Price (high to low)
Rating
Number of Reviews
Tailor-Made Tours
Can't find what you're looking for? We can plan a custom-made food experience or itinerary just for you.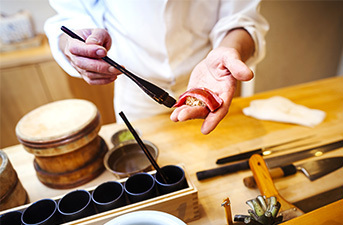 Browse The Top Sushi Making Classes in Japan
Enjoy Japanese sushi in the comfort of your own home and impress your family and friends with your sushi making skills! These sushi making classes in Japan prove that you don't have to go out to an expensive sushi restaurant to enjoy high-quality sushi. Learn how to make homemade Japanese sushi with a cooking instructor during these sushi making classes in Japan. Learn a variety of techniques, from how to make and properly season the sushi rice, to creating cute decorative designs, or perfectly shaping your nigiri sushi by hand. ByFood's selection of sushi making classes in Japan includes classes taught by professional sushi chefs and cozy cooking lessons in typical Japanese homes with experienced home cooks. Don't eat fish? You can still enjoy vegetarian and vegan sushi classes, which use with plant ingredients. So roll up your sleeve and join your teacher in their cooking studio or home kitchen, learn how to make sushi that's both delicious and healthy.